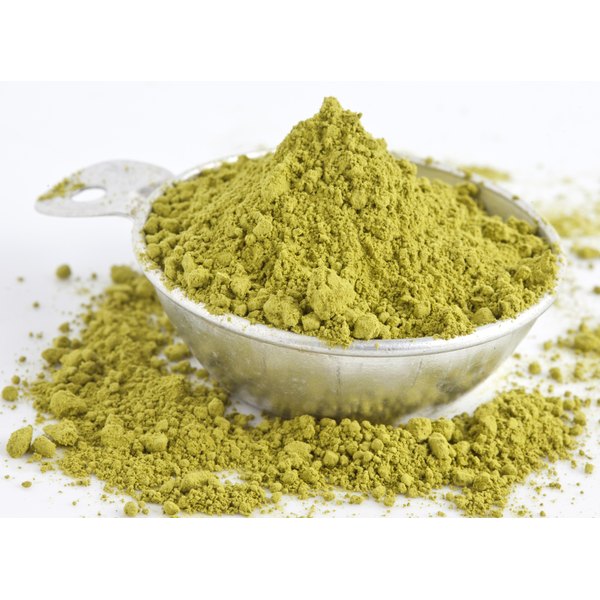 Gymnema sylvestre grows in the southern and central tropical forests of India. The leaves of this woody climbing plant have been used in India for a long time. Its nickname is the "sugar destroyer" because of its purported ability to suppress sweet tastes, according to the University of Michigan Health System. This herb is believed to have a variety of benefits, such as aiding in weight loss and possessing lipid-lowering, antiallergenic and antiviral properties. Like all herbs, its use may pose possible dangers, so you should speak to your doctor prior to using gymnema sylvestre.
Dosing
One suggested dose is 400 to 600 milligrams a day of extract standardized to contain 24 percent gymnemic acid, according to the Swedish Medical Center. Before determining the best dose for you, it is important to talk to your doctor. Different brands may have variable ingredients or be made differently, according to Natural Standard.
Evidence for Weight Loss
A study of a combination of niacin-bound chromium, hydroxycitric acid and gymnema sylvestre extract reports that its use may lead to a reduction in body mass index and weight, according to the May 2004 issue of "Diabetes, Obesity and Metabolism." Beneficial effects on blood lipid levels were reported as well. Another study on rats, published in the December 2013 issue of "Drug Research," found that this herb may prevent weight gain when used over the long term while consuming a high-fat diet. Further human studies are needed to confirm whether these findings apply to humans.
Side Effects
More research is needed to determine its side effects, but as of now we know that gymnema may interfere with our ability to taste sweet foods. This herb may also lower blood sugar levels and raise systolic blood pressure, according to a study in the June 2013 issue of the Indian Journal of Medical Research.
Contraindications
If you are allergic to milkweed, you may experience adverse effects with gymnema so you should avoid taking it. Whether this herb is safe if you are breast feeding or pregnant has yet to be determined; if either apply to you, it is best to avoid this herb, according to Drugs.com. If you are diabetic you should take gymnema sylvestre only under the supervision of your physician.
Drug Interactions
Gymnema sylvestre may interact with certain medications, especially medications prescribed to treat diabetes. If you take glyburide, glipizide, insulin or any other medication for diabetes talk to your doctor before using gymnema sylvestre.