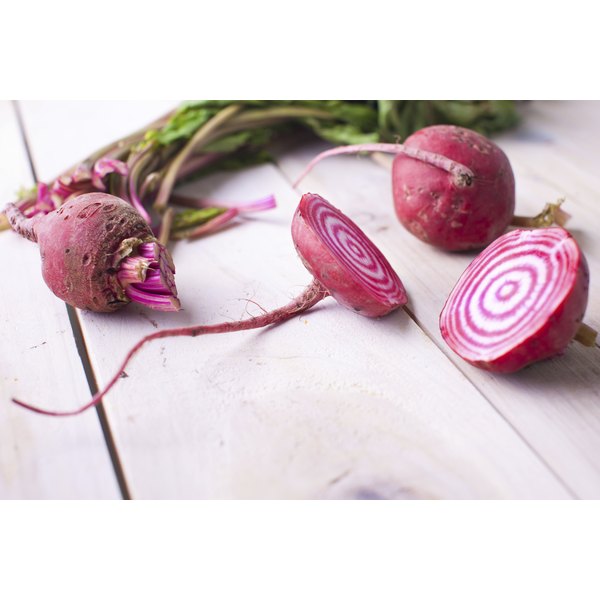 Packed with health-boosting nutrients, beets may be the new spinach. The beet is a nutrient-rich root vegetable available year-round. Red beets are the most common variety, but you also might come across golden beets, and white and pink Chioggia beets.
Blood Pressure Benefits
Researchers found that drinking beet juice lowers high blood pressure within one day, according to a study published in "Hypertension" in 2010. The study authors concluded that beet juice is just as effective as taking the prescription drug nitrate in lowering high blood pressure. Beet juice contains the compound nitrate, which is responsible for beet juice's beneficial effects. It improves blood flow by dilating blood vessels and relaxing smooth muscle, which results in reduced blood pressure.
Brain Booster
A study by researchers published in 2010 in "Nitric Oxide: Biology and Chemistry," found that when the elderly participants drank beet juice, they increased the blood flow to their brain. According to the researchers, some areas of the brain receive less blood flow as you age. Less blood flow means fewer nutrients and less oxygen, which results in mental decline.
Stamina Step-Up
A study published in the in 2009 in the "Journal of Applied Physiology," found that participants cycled 2 percent longer after drinking beet juice than they did with the placebo. The nitrate content may reduce the amount of oxygen needed during exercise, which conserves energy, according to BBC News.
Anemia-Attacker
Nutrient-rich beet juice contains high levels of iron that binds oxygen to red blood cells, and supplies the body with oxygen. Beet juice is particularly beneficial as a anemia remedy for children and teenagers, according to naturopath H.K. Bakhru, author of "Foods That Heal."