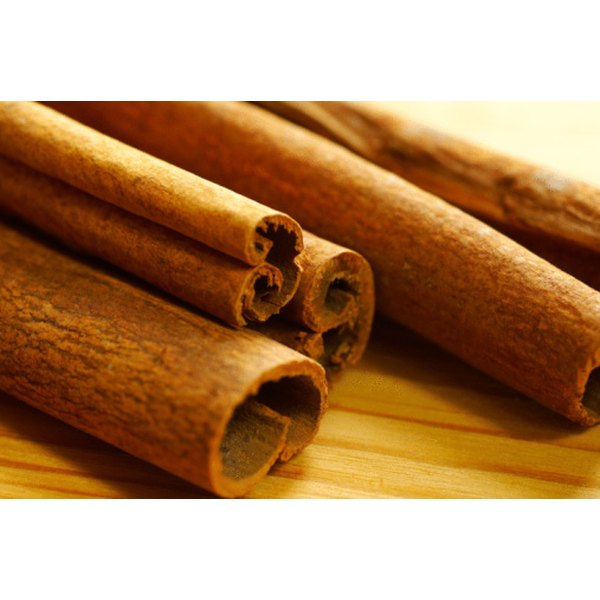 Excess sugar consumption can result in health conditions like diabetes and obesity. If you're trying to reduce your sugar intake, it can be difficult to overcome cravings, causing you to lose momentum in your endeavor. Supplementing your diet with certain herbs and spice can help curb your sugar cravings to increase your chances of success. Nonetheless, you should always consult your physician prior to beginning any herbal regimen.
Cinnamon
In the book "Weight-Loss and Cellulite Control," Dr. Linda Rector-Page recommends adding fresh ground cinnamon to your beverages, such as coffee and tea, to reduce sugar cravings while also benefiting your overall health. Cinnamon stimulates the metabolism and helps to build lean muscle, according to Stephen Gullo in the book "The Thin Commandments." The author says that cinnamon augments the flavor while also enhancing satiety to turn off sugar cravings and restoring blood sugar levels after an excess of carbohydrates.
Cloves
Cloves, especially in conjunction with cinnamon, have a tangy, sweet taste that can help regulate blood sugar levels and curb any cravings. In the book "Sugar Shock," Connie Bennett recommends adding cloves to your salads, grains, vegetables and poultry to spice up your recipes with the added benefit of reducing sugar cravings.
Ginseng
Amy Rost says in the book "Natural Healing Wisdom and Know-How" to consume ginseng, as it is a key herb for regulating blood glucose levels, as well as controlling sugar cravings. If you're in dire need of sugar, you can soak a piece of ginseng in honey to deliver a minimal amount of sweetness, the author notes.
Licorice
Rector-Page says that licorice root is a sweet addition to beverages that can encourage sugar reduction while offering a slightly sweet taste. For maximum sugar stabilizing, combine ginseng and licorice in hot water.