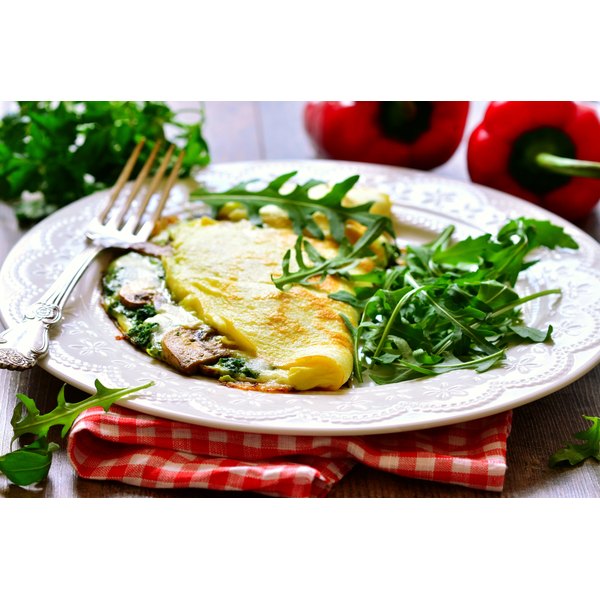 Omelets are a breakfast food that consist of eggs, along with vegetables, cheese or meat. Nutrition in omelets will vary depending on how many eggs you use or if you use an egg replacer. Beat the eggs until they are well incorporated. You may add milk for a lighter texture. Spinach and mushrooms are healthy additions to your omelet. Saute them until they are soft and pour the egg mixture over the veggies. Cook until the egg is nearly cooked, flip it, fold it and eat.
Calories
The one-egg omelet with spinach and mushrooms has around 110 calories. Adding another egg will increase it to 220 calories while a three-egg omelet has more than 300 calories. If you are trying to watch your weight, order a one-egg omelet. You could also ask for an egg replacer when you go out to eat to reduce the amount of calories you consume. A one-egg spinach and mushroom omelet provides approximately 6 percent of your total calories for the day if you are following a 2,000-calorie diet. Consuming a three-egg omelet provides around 17 percent of your daily calories.
Carbohydrates and Protein
According to MayoClinic.com, 45 to 65 percent of your total calories for the day should come from carbohydrates and 10 to 35 percent should come from protein. Carbohydrates have 4 calories per gram. A one-egg spinach and mushroom omelet has approximately 2 g carbs which provides 8 calories. Protein also contains 4 calories per gram, and this omelet offers 7.25 g protein. About 30 of the total calories come from protein. This omelet consists of 7 percent carbs and 27 percent protein.
Types of Fat
You have several types of fat in your diet. Some kinds are better for you than others. The healthy fats are monounsaturated and polyunsaturated which are found in eggs and vegetable oils. Cook your omelet with a healthy oil, such as vegetable oil or olive oil, to include additional "good" fats. MayoClinic.com suggests avoiding "bad" fats, such as saturated and trans fats. Total fat should not take up more than 35 percent of your total calories.
A one-egg spinach and mushroom omelet has nearly 8 g total fat. About one-half the fat is monounsaturated. The omelet also provides around 1.5 g of "good" polyunsaturated fat, but the rest of the fat is saturated. Each gram of fat provides 9 calories. This omelet provides 71 calories from fat, which is 65 percent of the total calories for the dish.
Cholesterol
If you are a healthy adult, you should consume no more than 300 mg cholesterol each day. You should consume less than 200 mg if you have, or are at risk for, cardiovascular disease. One large egg provides 213 mg cholesterol, says MayoClinic.com. Cholesterol is found in the egg of the yolk. Enjoy an egg-white omelet to reduce fat, calories and eliminate cholesterol.
Additional Nutrients
You should consume 2 1/2 to 3 cups of vegetables each day, suggests MyPyramid.gov. Filling your omelet full of veggies will provide you with beneficial nutrients. Adding spinach and mushrooms to your omelet will provide fiber, which helps aid in digestion. A spinach and mushroom omelet also provides vitamin A, for healthy eyes and skin, vitamin C, for a strong immune system, and vitamin E, which acts as an antioxidant in your body.