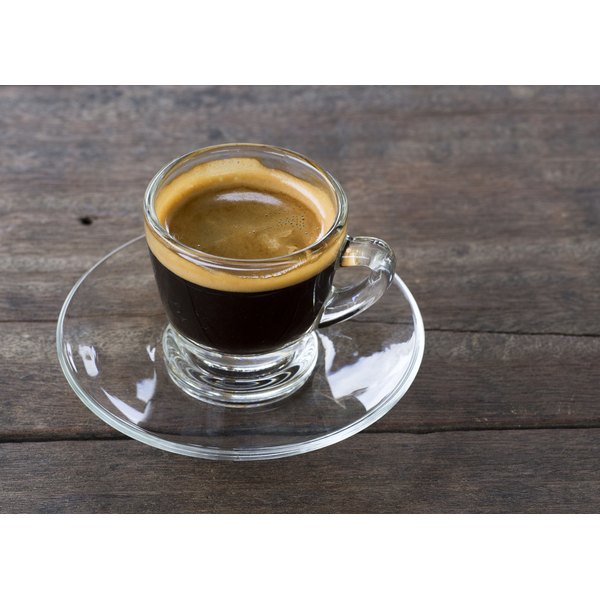 Osteoporosis refers to a bone disease in which the bones are porous and fragile. Besides some postural changes, the only symptom of osteoporosis is increased susceptibility to bone fractures. Many of the risk factors for osteoporosis, such as diet and calcium and vitamin D intake, can be modified by lifestyle changes. A few studies have suggested excess caffeine consumption may increase the risk for developing osteoporosis. However, an article in the February 2010 issue of "Nutrition and Metabolism" notes that results from the majority of studies do not indicate caffeine consumption affects the progression of osteoporosis unless calcium intake is sufficiently low.
Calcium Retention
A review in the September 2002 issue of "Food and Chemical Toxicology" reports that caffeine consumption causes a small decrease in calcium absorption but does not significantly influence the rate of calcium excretion by the kidneys. This source also notes that the minor effect of caffeine on calcium absorption is small enough to be fully offset by as little as 1 to 2 tbsp. of milk.
Bone Mineral Density
A study in "Nutrition and Metabolism" reports that caffeine intake of more than 367 mg per day, which is equivalent to about four cups of coffee, was associated with a 4 percent decrease in bone mineral density of the femur in elderly men, but this association was not observed in women. This study further states that, similar to other studies, there is consistently no link between caffeine consumption and a decrease in bone mineral density in women.
Bone Fractures
A study in a 2006 issue of "Osteoporosis International" reports that hip fractures are increased in women who consume more than four cups of coffee, but the relatively small effect is only observed in women who also have insufficient calcium intake. Results from a large study, with over 34,000 participants, published in the September 2000 issue of "Public Health Nutrition," suggest that consumption of caffeine is associated with a small increased risk of bone fractures. From the available evidence, excessive caffeine intake may exacerbate the progression of osteoporosis, but this likely only occurs in a small subset of the population.