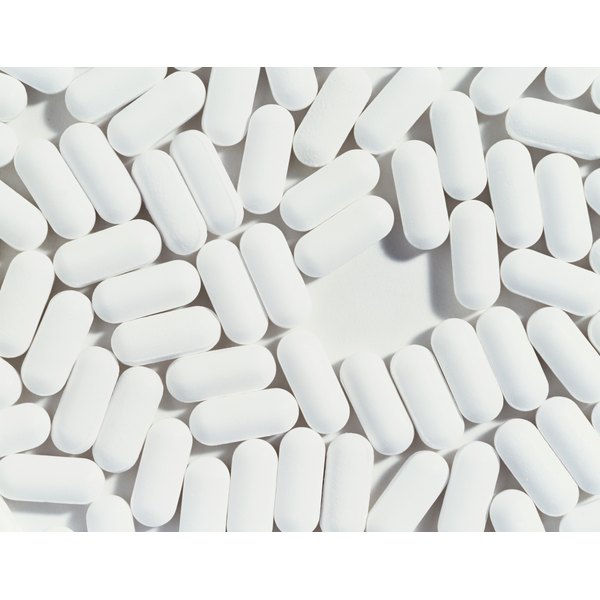 If you're hoping to lose weight and keep it off, you may have considered a weight-loss supplement. Hydroxycut is one of the more popular diet supplements in the United States, but it's been dogged by controversy and even linked to a few deaths. Thanks to new formulas, Hydroxycut is safer, but there are still some concerns regarding its effects on the body and on weight loss.
History
Hydroxycut has been manufactured by Iovate Health Sciences Research, Inc, since 1995 as a nutritional supplement for weight loss. As of 2009, it was the most popular such supplement, selling around 1 million units annually, according to the "World Journal of Gastroenterology." In 2003, the "New York Times" reported that the manufacturer had covered up studies showing that Hydroxycut was ineffective and had serious cardiac side effects. In 2009, the U.S. Food and Drug Administration recalled Hydroxycut products after some were linked to liver damage and a muscle disease called rhabdomyolysis, seemingly caused by one of the product's ingredients, Garcinia cambogia. The products were reformulated shortly thereafter.
Formulas
As of November 2010, the latest formula of Hydroycut is called ProClinical Hydroxycut and contains 12 mg of vitamin C, 170 mg of calcium and 340 mg of a proprietary blend of caffeine anhydrous, acerola concentrate, ladies' mantle extract, wild olive extract, komijn extract, wild mint extract, goji extract, blueberry powder, pomegranate, and bilberry extract. The company also has a caffeine-free version and another formula called Hydroxycut Max! Advanced for women. The women's version includes 230 mg caffeine, 200 mg folic acid, 59 mg calcium carbonate, 2 mg iron, green coffee extract, oleic acid, L-glutamic acid, L-threonine, L-isoleucine, co-enzyme Q10, glutathione, L-alanine and L-serine. With all Hydroxycut formulas, you are also encouraged to consume a low-calorie diet.
Claims
According to the manufacturer, Hydroxycut is an innovative product that will help you lose more weight than dieting alone, give you a significantly reduced body-mass index and increase your energy levels. They point to two company-sponsored clinical studies that showed that people using Hydroxycut lost up to 15 times more weight in eight or 12 weeks than those taking a placebo. They attributed these results to the ingredients lady's mantle extract, wild olive extract, komijn extract and wild mint extract. The weight-loss ingredient canephora robusta, included in the women's formulation, was also shown to lead to seven times more weight loss than occurred in women taking a placebo, in another company study.
Considerations
The manufacturer's website notes that benefit statements haven't been evaluated by the Food and Drug Administration. To date, there are no independent scientific studies verifying that any of the ingredients in Hydroxycut can lead to weight loss. According to the Diet Pill Reviews website, the only ingredient that might have any weight-loss effect is caffeine. Fastweightloss.net adds that even so, Pro Clinical Hydroxycut doesn't contain clinically proven levels of caffeine, 400 mg, which have been linked to weight loss benefits. In the manufacturer's instructions for taking the product, they note that "for best results use Pro Clinical Hydroxycut for 8-12 weeks in conjunction with a calorie-reduced diet and regular exercise program." It may be healthier, easier and cheaper just to follow the diet and exercise instructions without adding in the supplement.
Warning
Pro Clinical Hydroxycut contains soy and milk ingredients, and Hydroxycut Max! Advanced for women contains sesame seeds and wheat. If you have allergies to those foods, you should avoid these products. The manufacturer includes a warning on the label of Pro Clinical Hydroxycut that it's not to be used if you are under 18, pregnant or nursing, and claims that you should consult your doctor if you are taking any prescription drugs including blood thinners. It also notes that if you are a "caffeine-sensitive" individual, you may experience restlessness, nervousness, tremors, headache, anxiety, palpitations, increased heart rate or difficulty sleeping.