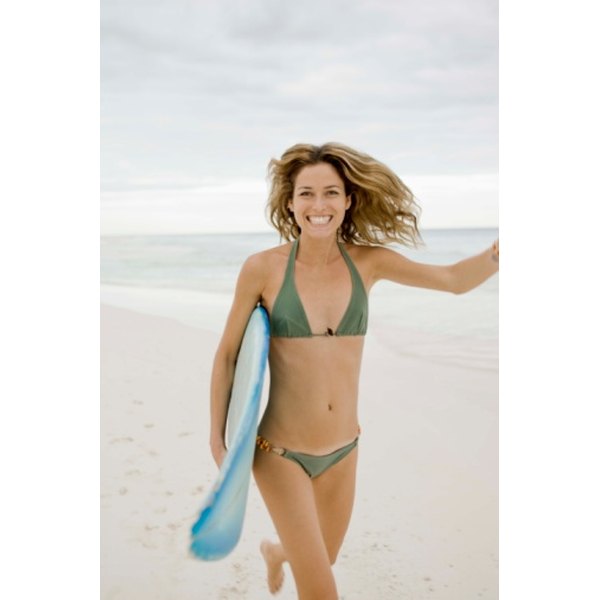 Dieters are always searching for the "magic bullet" that will help them lose weight and keep it off for good. Yellow Bullet is a product that claims it can do just that and also improve your energy and concentration. Although some studies have verified these claims in part, there are potentially serious side effects from the ingredients in Yellow Bullet, and to be safe, you should consult your physician before starting a diet plan using this supplement.
Identification
Yellow Bullet is a supplement in capsule form with a primary ingredient called Ephedra nevadensis, also known as ma huang. This shouldn't be confused with a form of ephedra known as Ephedra sinica that was banned by the U.S. Food and Drug Administration (FDA) in 2004, although ma huang is also technically a banned substance. The active ingredient of ma huang is a chemical known as ephedrine, which is similar to amphetamines. While ephedrine can suppress the appetite or increase metabolism, it also has side effects. Each Yellow Bullet capsule contains 300 mg of caffeine and a proprietary blend of ma huang, bitter orange, nettle root extracts and other chemical ingredients.
Claims
The manufacturer of Yellow Bullet claims it will increase your body's metabolism, improve your energy, endurance, concentration and alertness and also suppress your appetite. Yellow Bullet is supposed to turn your body into a thermogenic fat burning furnace, helping you lose weight 24 hours daily as if you were working out.
Considerations
A safe and effective dose of ma huang can't be recommended due to the FDA's ban on the herb in 2004. Several manufacturers have managed to work around that ban, but as eMedTV notes, what you see on the product label may not be what's actually contained in the bottle. Some herbal products have been contaminated with prescription drugs or heavy metals and others have more of the ingredient than stated.
Expert Insight
A study by C. N. Boozer et al at New York Obesity Research Center, part of St Luke's-Roosevelt Hospital and Columbia University in New York, tried to determine whether a combination of ma huang and caffeine was safe over the long term and if it had any effect on weight loss. The researchers published their results in the May 2002 issue of the "International Journal of Obesity and Related Metabolic Disorders," showing that the subjects taking the supplement for six months had improved cholesterol levels and blood pressure and also had reductions in body fat.
Warning
The Yellow Bullet product information states that it isn't recommended if you're under 18, pregnant, nursing or have a history of heart disease, thyroid disease, diabetes, high blood pressure, headaches, depression, glaucoma, prostate enlargement, seizures or are taking MAO-I prescription drugs. It also states in capital letters that "improper usage of this product may be dangerous to a person's health" and that you could call a poison control center or doctor in case of accidental overdose. The FDA has determined that ma huang is not safe for use, due to potential side effects such as high blood pressure, rapid heart rate, irregular heart rhythm, heart attacks, strokes and seizures.