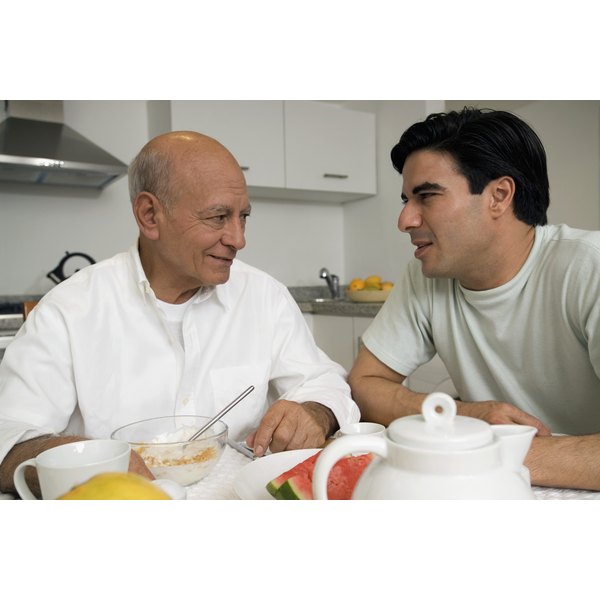 The Therapeutic Lifestyle Changes (TLC) Diet was devised by the U.S. government's National Cholesterol Education Program (NCEP) to give guidance to people who have blood cholesterol problems. The TLC Diet doesn't have a recommendation for how many calories people with cholesterol problems should eat daily because calories don't affect cholesterol levels directly. However, it offers several menus for people who consume 1,200, 1,600, 1,800 and 2,500 calories daily.
Recommendations
The NCEP recommends you begin the TLC Diet if you have at least 160 mg/dL bad cholesterol (LDL) in your blood. If you have more than one risk factor for heart disease, you should go on the TLC Diet if your bad cholesterol level is at least 130 mg/dL. Risk factors include high blood pressure, cigarette smoking, good cholesterol below 40 mg/dL and family history of early heart disease. People with heart disease should try the diet when their bad cholesterol level is at least 100 mg/dL.
Features
The saturated fat and cholesterol in food can raise your bad cholesterol, according to the U.S. government publication "Lowering Your Cholesterol With TLC." The government urges people with healthy bad cholesterol levels to limit their saturated fat to 10 percent of their calories and dietary cholesterol to 300 mg daily. The TLC Diet menus, though, limit saturated fat to 7 percent of calories and dietary cholesterol to 200 mg daily. The menus limit meat and dairy products and emphasize beans, bread, fruit, pasta and vegetables.
Considerations
Eating the TLC Diet menus with the fewest calories is advisable only for people with severe weight problems because you need to eat about 1,200 calories daily to "keep the body alive" and need significantly more if you want to have the energy for exercise, according to the textbook "Essentials for Health and Wellness." Technically, a nutritional calorie equals 1,000 calories or one kilocalorie, but the authors of most nonscientific publications use "calorie" when they're referring to "kilocalorie," reports "Essentials."
Choices
The TLC Diet has menus in four cuisines -- Traditional American, Southern, Mexican-American and Asian-American. The typical Traditional American menu in the "Lowering Your Cholesterol" report includes shredded wheat cereal for breakfast, a roast beef sandwich for lunch and salmon for dinner. The Southern menu includes oatmeal for breakfast, baked chicken for lunch and roast beef for dinner. The Mexican menu includes farina for breakfast, a beef enchilada for lunch and a chicken taco for dinner. Those on the Asian menu have a banana for breakfast, a salad for lunch and pork stir-fry with vegetables for dinner.
Comparisons
The Southern TLC menu has more fat and dietary cholesterol than the other TLC menus, although it includes lettuce, tomatoes and cucumber for lunch as well as turnip greens and honeydew melon for dinner. The Southern menu also has the least sodium. The Mexican menu has the least cholesterol, but has the most sodium by far, although its taco includes low-sodium cheddar cheese. All the menus include snacks. The American menu includes popcorn, and the Asian menu includes almond cookies.