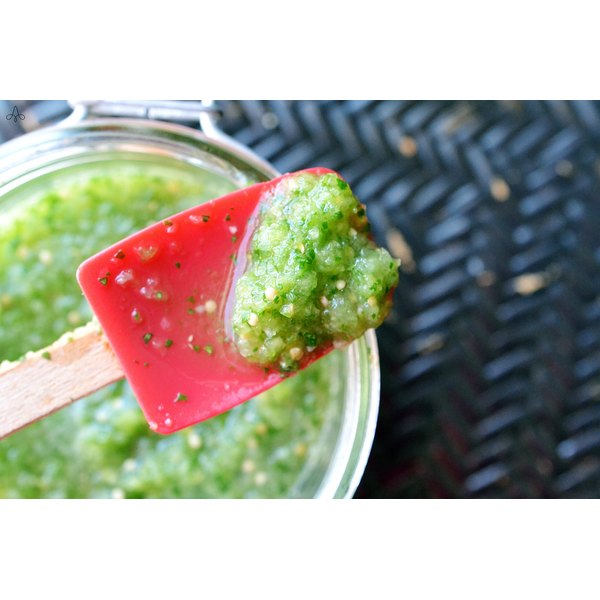 There are three different varieties of physalis fruits, including Chinese lantern and cape gooseberry, but the type you may be familiar with is the most commonly eaten variety, the tomatillo. Technically a fruit, physalis is a member of the nightshade family and is closely related to the tomato, and actually isa berry, as are tomatoes. Tomatillos are a rich source of potassium, an important mineral for your healthy diet.
Tomatillos
Native to Mexico, tomatillos were grown by Aztec Indians nearly 3,000 years ago. The tomatillo, which translates into "little tomato" in Spanish, is sometimes called jamberry or husk tomato. Tomatillos can be the size of a cherry tomato or as big as a small tomato. A paper-like husk covers the fruit, giving it the appearance of a small Chinese lantern. The fruit is usually picked when it's light green, although the ripe fruit is usually yellow.
Uses For Tomatillos
Tomatillos have a distinct flavor that is both sweet and tart, and resembles the taste of a lemon. The fruit is often used in Mexican salsa and mole dishes, particularly green sauces. Containing a substance similar to pectin, tomatillos act as a natural thickener when refrigerated. Tomatillos can be sliced and added to salads or blended into raw soups for a tart, lemony garnish.
Nutrition
A serving size of tomatillos equals one-half cup, or 66 g, and contains 20 calories. One serving size contains 1 g of protein. and 4 g of carbohydrates, of which 1 g is dietary fiber and 3 g is sugar.
Potassium
Dietary Guidelines for Americans, 2005, reports that eating foods rich in potassium helps to prevent high blood pressure, and recommends you eat enough potassium-rich foods for 4,044 mg a day. One serving size of tomatillos contains 177 mg of potassium, for 4 percent DV.
Vitamins and Minerals
A serving of 100 g of tomatillos contains 7 mg calcium, 1 percent DV; 20 mg of magnesium, 53 percent DV; 1 mg of sodium; 39 mg of phosphorus, 2 percent DV; and 12 mg of Vitamin C, for 8 percent DV.
Cape Gooseberry
Another variety of physalis, cape gooseberry, is native to Chile and Peru, and rarely seen in North America. The unripe fruit of the cape gooseberry is extremely poisonous. The primary commercial use of the ripe fruit is in preserved jams, although the fruit is sometimes used as a garnish.
Chinese Lantern
Chinese lantern physalis is primarily grown in Colombia and South Africa. Also called "winter" or "bladder" cherry, the Chinese lantern's bright red and orange fruits are typically used for ornamental purposes.