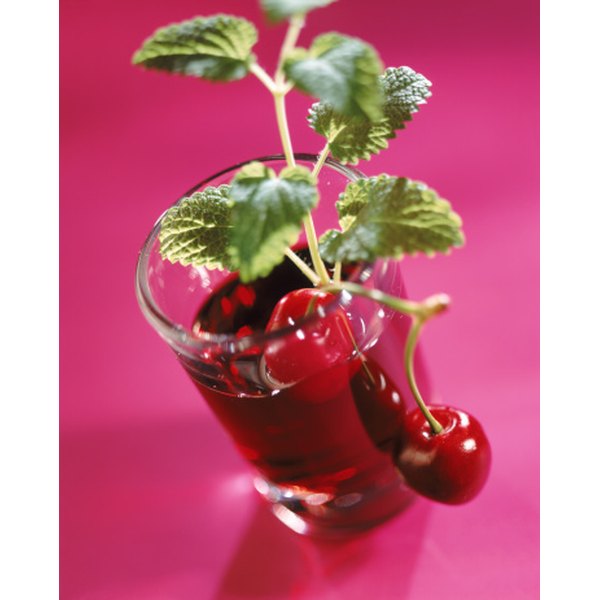 Cherries have emerged as one of the latest in a line of "superfoods," those foods that contain natural ingredients to ward off disease and infection. According to a report from The Cherry Marketing Institute that was reviewed by the University of Texas Health Science Center, tart cherries, used to make dark cherry juice, are one of a nutrient-rich fruit that may be helpful to your health.
Features
The skin of dark fruits and vegetables contains anthoryanins, phytonutrient compounds that serve as anti-inflammatory and antioxidant properties, according to Johns Hopkins. Dark cherry juice contains the ingredients found to relieve the pain of gout and arthritis and help you sleep better.
Ingredients
Dark cherry juice is a carbohydrate that contains about 130 calories and 32 g of carbs in an 8 oz. serving, according to FatSecret. The juice does not have any cholesterol and only about 20 mg of sodium. Dark cherry juice contains no fat, but usually is sweetened with sugar, up to 24 g. An 8 oz. serving has about 1 g of protein and 410 mg of potassium.
Vitamins and Minerals
FatSecret reports that an 8 oz. serving of dark cherry juice provides about 8 percent of your daily iron requirements and 2 percent of your calcium needs. The Cherry Marketing Institute reports that tart cherry juice contains vitamins C and E as well as folate, beta-carotene, magnesium and fiber.
Function
In addition to helping reduce inflammation, the juice may help reduce insulin resistance and the risk of developing diabetes. According to Health Care Clinic, cherry juice acts as a laxative and effective toxic cleansing product in elimination diets. Dark cherry juice mixes well with other beverages such as apple juice and tea. The Cherry Marketing Institute reports that the juice may help in the prevention and treatment of memory loss and certain kinds of cancer.
Warning
While research emerges about the health benefits of cherry juice, the U.S. Food and Drug Administration does not allow cherry juice manufacturers to market their products as drugs or to publicize any possible healthy side effects. The FDA issues warnings and fines to juice makers on a regular basis warning them to stop any practices that claim health benefits. Juice is not regulated as a medical supplement. You should follow your doctor's recommendation when it comes to using food or supplements to treat a medical condition.