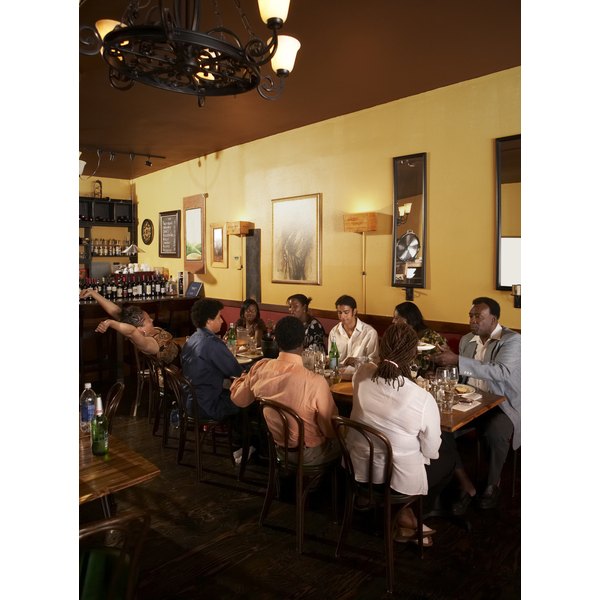 If you're following a healthy diet, dining out can present a challenge. Many restaurants serve calorie-dense meals that contain more than the recommended amount of salt, fat and sugar. Huddle House is a restaurant chain that serves breakfast, lunch and dinner. While it's not known as one of the healthiest choices for dining out, there are ways for you to reduce your calorie intake when you eat there.
Tip
One serving of Huddle House is reported to have 730 Calories, according to the nutrition facts provided by livestrong.com.
Tackling Breakfast
Huddle House offers an array of breakfast dishes packed with as many as 1,200 calories. If you're looking to go out for breakfast without breaking the calorie bank, an egg-white omelet is one of the safest bets, according to registered dietitian Joanne Lichten, author of "Eat Out Healthy." For example, a Huddle House Philly steak omelet made with egg whites and no cheese contains about 250 calories, 36 grams of protein and 8 grams of fat, according to "The Complete Calorie, Fat & Carb Counter," by Alex Lluch.
Grabbing Lunch
When it comes to lunch at places like Huddle House, go grilled or broiled and skip high-calorie fixings such as cheese, gravies and creamy sauces, writes Lichten. A Huddle House grilled chicken salad contains an estimated 340 calories, 32 grams of protein and 2 grams of fat, according to Lluch. A grilled chicken sandwich without cheese provides a similar nutrient profile. If you're hankering for fries, opt for the Huddle House sweet potato fries, which contain an estimated 180 calories, according to Lluch.
Going for Dinner
Some of the meals at Huddle House with the most calories are on the dinner menu, but it's possible to get an entree that's under 500 calories. If you order the 4-ounce steak and replace the fries with a salad, you're looking at about 380 calories, according to Lluch. The Huddle House grilled shrimp with salad is also a low-calorie option, at an estimated 250 calories. Another healthier option is the crispy chicken sandwich, which has about 430 calories if you order it without the gravy.
Tips on Eating Out
Lichten recommends that you save dining out for a special occasion. When you do go out to eat, one of the simplest ways to reduce your calorie intake is to share an entree with someone else, or split it in half and take the rest home for another day. Choose grilled, steamed and broiled fish and meat options served with steamed or grilled vegetables, and request low-fat dressing on the side. Avoid adding butter, full-fat dressings and creamy sauces.