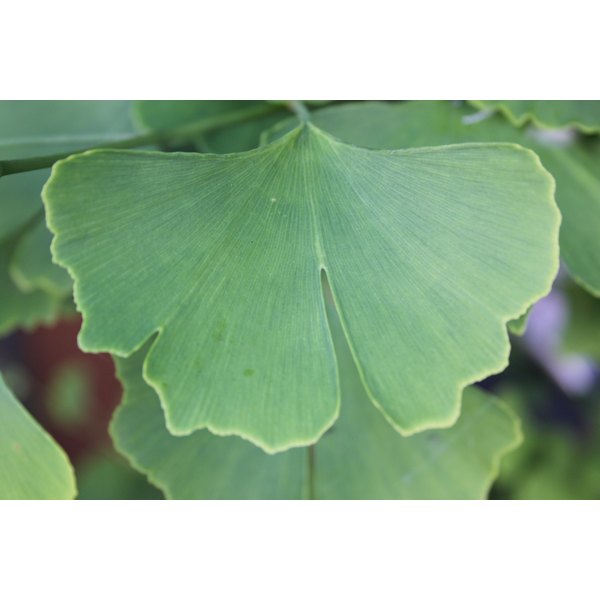 Glaucoma is a condition that affects the eyes and occurs when drainage channels in the eye become blocked, preventing eye fluid from draining away properly. As a result, pressure in the eye increases, which in turn can damage the optic nerve. This may lead to loss of vision and even blindness if left untreated. If you have glaucoma, your doctor may prescribe drugs to lower the pressure in your eyes, or you may need to undergo laser therapy. Some herbs may help to support eye heath but should never be used in place of conventional glaucoma treatments. Talk to your doctor before using herbal medicines.
Examples
Several herbs may help to support vision and eye health including ginkgo biloba and bilberry, the University of Maryland Medical Center notes. The leaves of the ginkgo tree have been used to treat a number of eye diseases including age-related macular degeneration and glaucoma, while the fruit and leaves of the bilberry plant are sometimes used to improve eyesight.
Use
UMMC recommends 80 mg of a standardized extract of bilberry three times daily to support vision. Alternatively, you may prefer to take 40 mg to 80 mg of a standardized extract of ginkgo biloba three times daily. These doses are intended as a guideline only. Talk to your doctor about the right dose and treatment schedule for you.
Efficacy
Ginkgo leaf extract may help to repair damage to the field of vision in people with a form of glaucoma known as normal tension glaucoma, Medline Plus notes. An article published in the December 2005 issue of "Ophthalmology Clinics of North America" also notes that ginkgo biloba may exert a number of effects which combined could prove to be of major benefit in the treatment of glaucoma. In contrast, there is little scientific evidence to support the use of bilberry as a treatment for eye disorders, according to Medline Plus.
Side Effects
Bilberry fruit and herbal extracts are likely safe for most people, Medline Plus notes. However, bilberry leaf is likely unsafe when taken in high quantities or for a long period of time. Ginkgo leaf extract is also safe for most people but may cause side effects including headache, constipation and allergic skin reactions.
Contraindications
Do not use ginkgo biloba if you are taking anticoagulants as it may increase the risk of bleeding or bruising. Also avoid this herb if you have a bleeding disorder, diabetes or if you are scheduled to undergo surgery. Ginkgo biloba may cause seizures in sensitive individuals; avoid this herb if you ever had a seizure. Bilberry may affect blood sugar levels and should not be used alongside diabetes medicines. Medline Plus notes that bilberry may also slow blood clotting. Do not take this herb if you are taking anticoagulants. Talk to your doctor if you have any medical conditions or are taking prescription drugs before using either of these herbs.