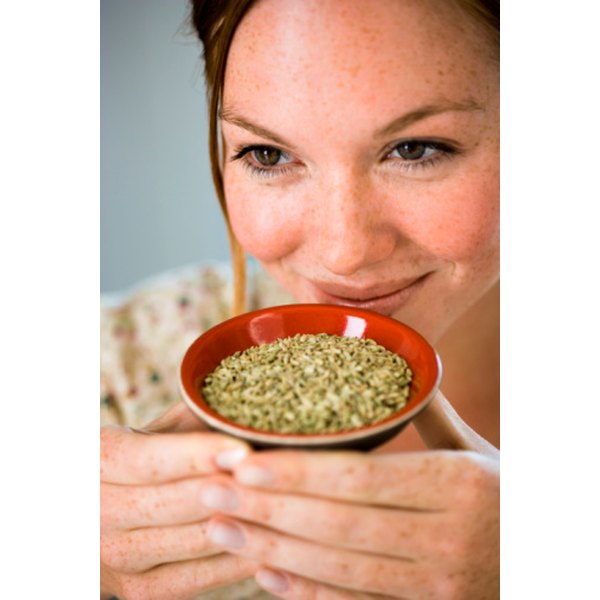 Fennel is a highly flavorful herb with a long history of culinary and medicinal uses. Prized for its licorice-like flavor, fennel is popular as a tea and is a key ingredient in many recipes. Fennel is also used in treating a wide variety of ailments, including digestive complaints, infections, menstrual disorders and arthritis, according to the website Herbs 2000. Inflammatory disorders have also been shown to respond well to fennel. As with starting any new treatments, consult your doctor first.
Anethole
A compound that is a chief constituent of fennel is effective at blocking inflammation, according to a study published in the June 2000 "Oncogene." The compound, known as anethole, is also found in herbs such as camphor and anise. Anethole reduces inflammation by inhibiting a system within cells, known as NF kappa B, that induces the inflammatory response.
Inflammatory Diseases and Allergies
Fennel provided both inflammation and pain relief through its inhibition of NF kappaB, in a study reported in the September 2004 "Fitoterapia." Fennel also significantly increased activity of an antioxidant known as superoxide dismutase, which contributes to lower levels of inflammation, as well. The study used a dose of 200 mg/kg body weight and tested fennel against both inflammatory diseases and allergies. Considerable research has linked NF kappaB to a variety of inflammatory diseases, including cancer, atherosclerosis, myocardial infarction, diabetes, allergy, asthma, arthritis and Crohn's disease, among others, according to a study, published in the December 2004 "Annals of the New York Academy of Science." The study lists fennel as one of many spices that affect NF kappaB.
Conjunctivitis
Fennel has a historical use as an eye wash to heal inflammation associated with eye infections, according to the website herbs2000.com. Volatile oils in the plant are responsible for the antiseptic effect. The website Health911.com lists boiled fennel seed tea as a remedy for conjunctivitis.
Ulcers
The ulcer-healing ability of fennel was reported in the January 2007 "World Journal of Gastroenterology." Fennel extract significantly reduced alcohol damage to the lining of the stomach and also reduced levels of malondialdehyde, a dangerous and cancer-causing by-product of prostaglandin production -- part of the inflammatory response system in cells.
Cautions
Fennel may have hormonal properties that lead to premature breast development in children, according to a study published in the November 2008 "Journal of Pediatric Surgery." The researchers caution that fennel should be used in children on a limited and not a longterm basis. Fennel also contains estragole, a carcinogenic substance that occurs naturally in fennel, tarragon and basil. Quantities of this substance should be limited to prevent deleterious effects.