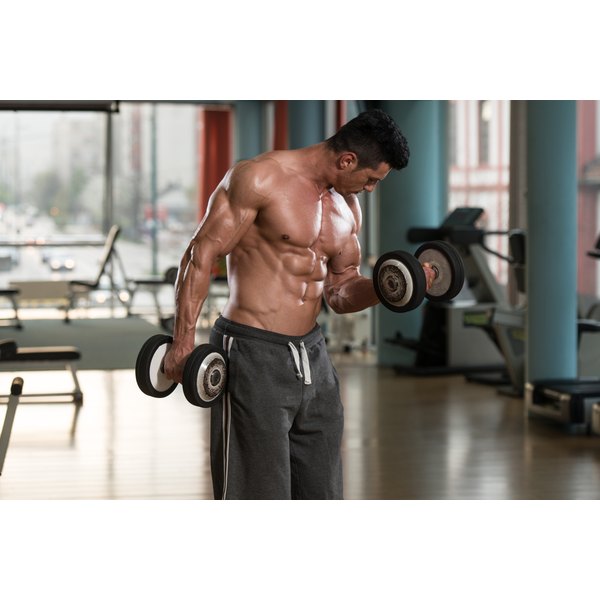 The National Academy of Sciences recommends that the average person consume 45 to 65 percent of her daily calories from carbohydrates, approximately 900 to 1,300 calories per day based on a 2,000 calorie-a-day diet plan. However, a bodybuilder may need to follow a slightly different diet plan to achieve the body he needs for competition. Bodybuilding.com offers a lower-carb diet plan based on six meals per day. Consult your doctor before trying it.
The Facts
Low-carbohydrate diets can help you lose weight and tighten up your body, according to Bodybuilding.com. However, eating too few carbohydrates can be unhealthy, so it's important to find the right balance. The diet recommended by John Stamatopoulos of Bodybuilding.com breaks down to about 57 percent protein, 29 percent carbs and 14 percent fats. This meal plan is divided out among six meals each day.
Function
The primary function of this bodybuilding diet is to help you lose weight after a period of putting on mass. For instance, if you had previously been consuming 4,000 calories-a-day in an effort to build muscle and increase your mass, this diet plan would cut your daily caloric intake by about 300 calories every 10 days. The gradual decrease in calories and low-carb nature of the plan can help you lose excess fat and tighten up before a competition.
Time Frame
The time frame of the six-meal-a-day bodybuilding diet depends upon your current daily caloric intake. Based on the previous example of 4,000 calories-a-day, you will reduce your intake by 300 calories every 10 days. This pattern would continue until you reach 1,000 calories per day, which is the minimum number of calories you should be eating each day. Do not stay at this level for more than a week, according to Bodybuilding.com. For this reason, plan out this diet plan to finish within a week of your competition for optimal results.
Sample Meal Plan
Eat a small bowl of protein-rich cereal, glass of orange juice and three egg whites for breakfast. At lunch, eat 3 to 4 oz. of turkey breast, salad and flaxseed oil. Your next meal could include a small chicken breast and 1 oz. of rice. Your fourth meal could consist of a whey protein shake or meal replacement shake with or without orange juice. Have 2 oz. of tuna, a salad and safflower/soybean oil on top for dinner. Before bed, consume a low-carb protein shake or other high protein, low-carb snack. This meal plan is based on a 1,100 calorie plan with 150 g of protein, 76 g of carbs and 17 g of fats. Expand upon this base meal plan to suit your calorie needs.
Warning
Do not consume fewer than the recommended 45 to 65 percent of your daily recommended level of carbohydrates without first talking it over with your doctor or dietician. This diet plan may not be right for everyone. If you feel any signs of dizziness, extreme weakness, nausea or drowsiness while taking part in this diet plan, consult your doctor right away.