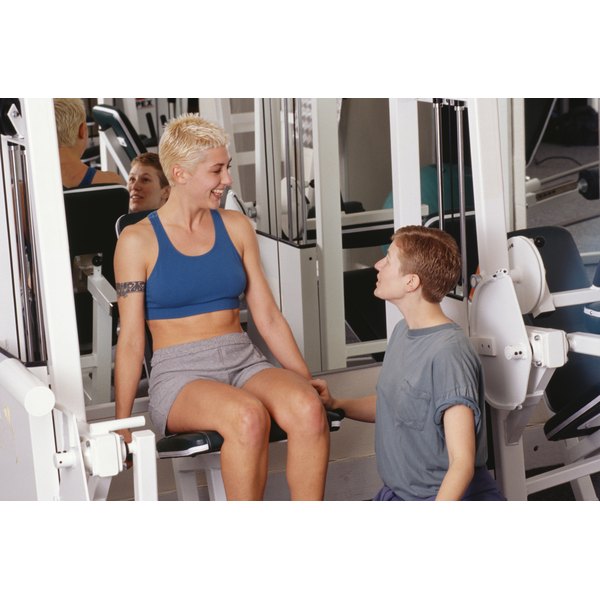 When you open a gym or fitness center, you need to market toward those people who don't already belong to a gym. Since commercial fitness centers often keep patrons in ironclad contracts, look for ways to lure in the type of customer who isn't yet under contract. By offering promotions, trials and even competitions, you can help get your name out there as an authority in fitness centers and weight loss, to stand out among other centers.
Weight Loss Competition
By starting a weight loss competition for fitness center members, you can generate interest for your center while helping others achieve their weight loss goals. Start by procuring a prize for weight loss, whether it's an MP3 player, gym gear or a cash prize. Then, invite members of the community to come in on the day of the weigh-in and enjoy a complimentary monthlong pass. Track weight loss among competitors with a weekly weigh-in, then offer first prize to the person who achieved the highest percentage of weight loss over the month. It will spotlight your fitness center, and participants are likely to purchase a membership to continue their progress.
Membership Promotions
By offering membership promotions such as two-for-one memberships, family discounts and prepayment discounts, you can encourage people to register with your fitness center. Post the details of your promotions in places those concerned about fitness may frequent, such as the organic food store or vitamin supplement store. Avoid nitpicky fine print that can turn customers off. Instead, promotions will encourage those who were undecided to obtain a fitness center membership with you.
Social Media and Web Presence
Social media is one of the most effective and inexpensive ways to get the word out about your fitness center. Create a fan page for your center, invite members and friends to join, and use it to update members about upcoming events and promotions. A clear and concise Web page can also define your brand, notes PS Print. Ensure that you have a recognizable logo that is eye-catching and professional, and use the logo and your Web presences when promoting via social media such as Facebook or Twitter.
Referral Programs
Word-of-mouth advertising is free and it's one of the most trusted forms of marketing. Someone may be more likely to joint your fitness club if their sister or friend recommends the facility to them. Because of this, a referral program may be an effective way to garner new contracts, notes The Red Carpet Broadcast. Offer current members incentives such as a free month or a percentage off a monthly contract price whenever members refer friend or family, and that friend or family member will purchase a fitness center membership.