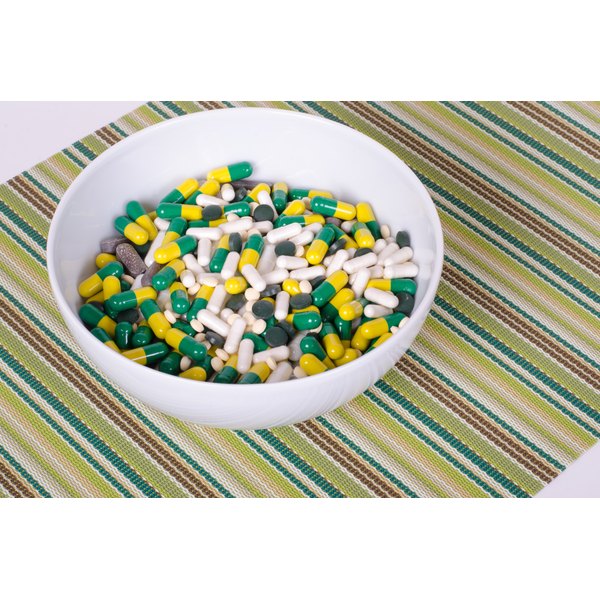 Demograss diet pills originate from Mexico and claim to increase your metabolism, suppress your appetite and reduce cellulite. According to Demograss.com, the capsule works through your glandular system and helps to make all of the organs in your body, including your thyroid and immune system, work more effectively. Demograss.com warns of low potassium levels while taking the pill and recommends maintaining a healthy diet with regular meals and drinking plenty of water. Side effects may include dizziness, vomiting, constipation or loose stools. It is recommended for people 18 and older. It should not be taken during pregnancy.
Consult with a certified nutritionist or registered dietitian to find out about Demograss diet pills. All diet pill weight loss and safety claims should be researched and validated and it is best to do that through someone who is educated and specializes in the weight loss or nutrition field. Many diet products make claims that are false or misleading and misuse of diet supplements can be dangerous. A certified nutritionist or registered dietitian should be able to explain the components and side effects of Demograss diet pills so that you can make the best decision for yourself. Additionally, nutritionists and dietitians will be able to help you establish a healthy eating plan to lose weight in a safe manner.
Contact the U.S. Food and Drug Administration. The FDA reports that at least 69 products that fall in the over-the-counter diet aid category were found to contain hazardous substances. These dangerous ingredients were not listed on any of the manufacturer's labels or packaging information. Some of the substances that were found are known carcinogens.
Ask your doctor for information on Demograss diet pills. Your doctor will probably know more about the contents of these types of diet pills and be able to advise you on whether they are safe or not. Your doctor may also be able to explain to you how this diet pill and others like it work in your body and the possible benefits and drawbacks. He also can perform a physical, determine your health and determine the best and most safe possible weight loss method.
Warnings
Always check with your doctor before taking any weight loss or diet aid.