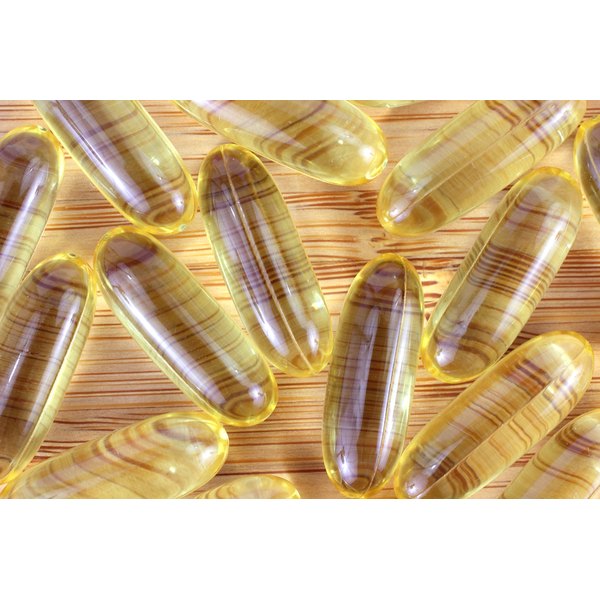 Omega-3 fatty acids, found in abundance in fatty fish, krill and shellfish, are important nutrients for human health and well-being. Krill oil, which contains the omega-3 fatty acids eicosapentaenoic acid (EPA) and docosahexaenoic acid (DHA), is sold in both a liquid form and as a softgel capsule. Liquid and softgel krill oil supplements differ in their benefits, side effects and costs. Talk to a physician or dietitian for help selecting an effective, safe omega-3 supplement.
General Benefits
Omega-3 fatty acids, including those found in krill oil, offer several health benefits to people of all ages. According to the University of Maryland Medical Center, krill oil and other omega-3 supplements can help reduce levels of triglyerides, or fat in the blood. This can also help reduce a person's overall risk of heart attack, stroke, hardening of the arteries and hypertension. The UMMC also reports that omega-3 supplements controls inflammation and reduces symptoms of some forms of mental illness.
Taste
Liquid krill oil supplements have a strong, fishy flavor that some people find unpleasant. Some supplement manufacturers offer liquid krill oil that has been processed to remove any bad-tasting impurities, while others add fruit flavors to mask krill oil's naturally strong taste. People who are sensitive to the taste of liquid krill oil may prefer softgel capsules. These usually have no taste because they are encapsulated and easy to swallow.
Side Effects
According to the National Institutes of Health, the most common side effects associated with omega-3 supplements include belching, reflux, heartburn and persistent aftertaste. These problems may be more significant for people using liquid krill oil. Some types of krill oil capsules are enteric coated, meaning that they contain a hard covering that prevents them from breaking down until they enter the lower digestive tract. These products cause fewer side effects than conventional liquid krill oil supplements.
Cost Comparison
Although softgel capsules have fewer side effects than liquid krill oil, they are usually significantly more expensive. Capsules require more energy, packaging and raw materials to process, and their retail cost generally reflects this. Depending on your needs and your ability to tolerate liquid krill oil's side effects, the benefits of softgel capsules may or may not be worth the cost difference.
Warning
Some people should not use krill oil except under a physician's guidance. All varieties of krill oil supplement can contain trace amounts of krill protein, which can trigger an allergic reaction in those who are allergic to shellfish and crustaceans. The NIH also advises people with liver disease, HIV/AIDS and implanted defibrillators to avoid the use of omega-3 supplements except under a physician's guidance.