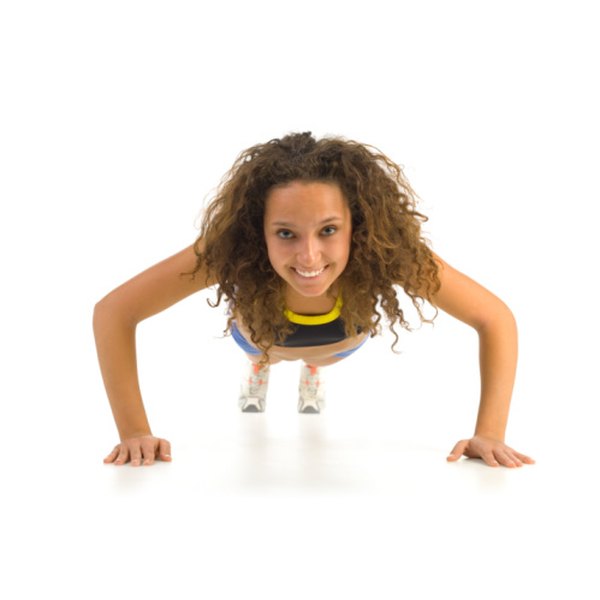 Fluctuating weight, smoking, age, pregnancy and breastfeeding can contribute to sagging breasts, according to MayoClinic.com. While your breasts will ultimately succumb to the forces of gravity, there are measures that can provide at least temporary uplift for sagging breasts. Possible solutions can range from drastic measures requiring a large cash outlay and significant recovery time to simply choosing the right foundation garment.
Pectoral Exercises
Breast tissue is primarily made of fat, but also contains connective tissues, milk ducts, lymph nodes and blood vessels, according to MayoClinic.com. There is no muscle tissue in the female breast, so exercise does not directly lift the breast itself. Worse, weight loss frequently results in a loss of breast tissue, according to Michele S. Olson, Ph.D., of Auburn University, quoted by Mind, Body + Spirit Fitness.
However, exercising the pectoral muscles, which support the chest, can provide lift to the breast area. This lift can enhance the look of your breasts in addition to shaping your torso. Push-ups, weight training and even yoga can strengthen the pectoral muscles and provide lift for sagging breasts.
Breast-Augmentation Surgery
The only means to lift sagging breasts directly is through surgery. Surgeons can perform breast lift surgery with or without adding breast implants. Saline breast implants carry somewhat less risk associated with rupturing, but silicone breast implants can look and feel somewhat more natural, according to Molly Walsh, D.O., a plastic surgeon at the Mayo Clinic.
Breast-augmentation surgery is considered major surgery, with the same risks associated with any procedure that requires general anesthesia. In addition, breast-augmentation surgery can cause loss of nipple sensation, scarring and infection at the site of the incision. The Food and Drug Administration recommends routine MRI scans every two years, beginning with the third year after surgery, to monitor breast implants for leakage and rupturing, according to Walsh.
The Right Bra
Eight out of 10 women wear the wrong size bra, according to Linda Becker, a lingerie shop owner in New York City, quoted by Mind, Body + Spirit Fitness. In addition, a woman's breasts change sizes several times during her life, due to weight fluctuation, Becker says. Wearing the right bra is especially important while exercising, according to Peter Bruno, M.D, quoted by Mind, Body + Spirit Fitness.
A professional fitter first measures the circumference of your body just underneath your breasts to determine your band size. The fitter then measures your breasts by wrapping a tape measure around your body and over the nipples. Subtracting the band size from the measurement over your breasts will determine your cup size: 1 is an A cup, 2 is a B cup, 3 is a C cup, 4 is a D cup, 5 is an DD cup and 6 is a DDD cup, according to Good Housekeeping.