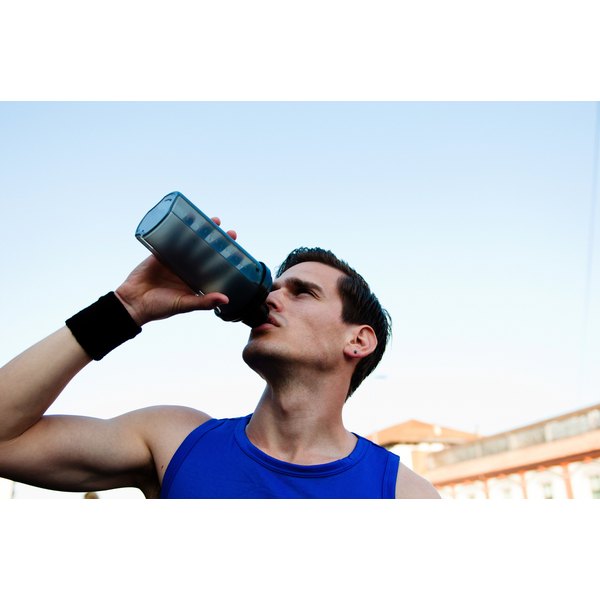 Meal replacement drinks are portable, quick to prepare, rich in vitamins and minerals and effective as part of a more complete weight-loss plan. When you choose organic drinks, you're also getting pure ingredients that are free of pesticides and genetically modified components. Organic drinks can be just as full of sugar and additives as conventional drinks, however, so be aware that they're not necessarily healthier choices.
Ready-to-Drink Shakes
The vast majority of bottled, ready-to-drink meal replacement shakes on the market are not organic. One organic product was developed by family physician Andrew Abraham after he was diagnosed with cancer. That drink comes in chocolate, vanilla, mocha and strawberry flavors and uses a base of organic whey and milk proteins blended with organic sweeteners and additives including fiber. An 11-ounce bottle of the drink has about 250 calories, 7 grams of fat, 32 grams of carbohydrates, 16 grams of protein, 2 grams of fiber and 12 grams of sugar.
Mixes and Supplements
There is a greater variety of powdered organic meal replacement products than ready-to-drink shakes. Most are designed to serve as protein supplements rather than meal replacements, but one product that is meant to replace meals has 310 calories, 5 grams of fat, 32 grams of carbs, 34 grams of protein, 10 grams of fiber and 7 grams of sugar in an 80-gram serving size. It contains a base of organic brown rice protein, brown rice sweetener, whole-grain and seed sprouts, dehydrated fruits and vegetables, and a variety of added vitamins and organic additives, such as stevia. Other organic powders have bases of organic whey, casein, brown rice, hemp or soy proteins.
Benefits of Organic
Organic ingredients are completely free of pesticides, genetically modified organisms and petroleum- or sewage-based fertilizers. Organic whey, casein and other extracted dairy proteins come from cows that are not treated with hormones or antibiotics. Additionally, according to a research review published in 2014 in the "British Journal of Nutrition," some organic foods contain naturally high levels of vitamins, minerals and antioxidants that can help with disease prevention.
Making Your Own
If you want a truly healthy organic meal replacement that fits your diet, make your own. Homemade shakes allow you to hand-pick ingredients, calculate your own nutrition facts per serving and customize flavors. Start with a healthy, protein-rich base such as organic plain Greek yogurt, silken tofu, dairy or plant-based milk, or organic protein powder. Add fresh or frozen organic unsweetened fruit for flavor, vitamins and minerals, and top off your shake with additions like organic unsweetened cocoa powder, cinnamon, ground flaxseed, rolled oats or nut butter.