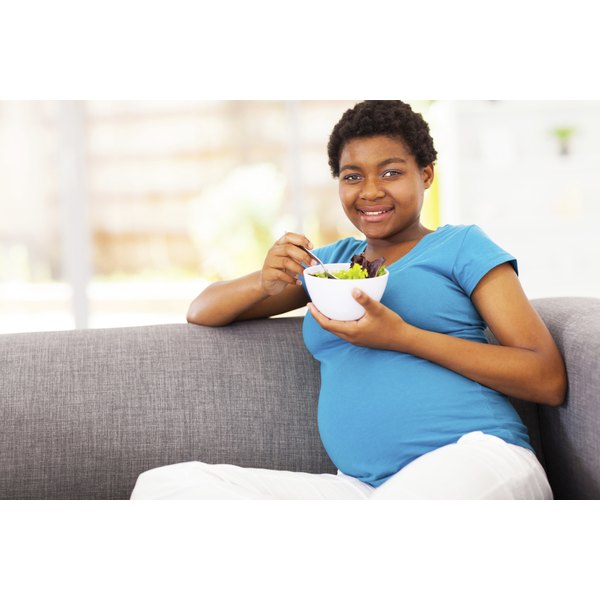 Eating well, which means eating the right number of calories and choosing healthy food sources, is essential when you are pregnant. Your food intake provides not only for your body, but also for your baby.
Eating for Two
It is common to hear that pregnancy is a time for a woman to eat for two. However, while you are providing nourishment for two bodies, the unborn baby needs only about 300 extra calories per day as your pregnancy progresses, according to the American Pregnancy Association. This number increases with multiples, such as twins. It can also vary some, depending on your specific situation. Overeating or consuming poor food choices can lead to excess weight gain and increase the risk of pregnancy complications.
Calorie Range
The Academy of Nutrition and Dietetics states that pregnant women generally need 2,200 to 2,900 calories a day with a gradual increase in calories as the baby grows, noting that during the first trimester, a pregnant woman doesn't require any additional calories, while during the second trimester, she can require an additional 340 calories, and during the third trimester, she can require an extra 450 calories a day.
Considerations
Since calorie needs for pregnancy can vary some, it is best to discuss your specific needs with your healthcare professional. Starting pregnancy underweight or overweight can change your caloric needs slightly. If you are underweight or carrying multiple babies, you may need to consume more than 300 extra calories per day. If you are overweight, your doctor may recommend that you eat the same number of calories while pregnant as you would if you were trying to maintain your weight.