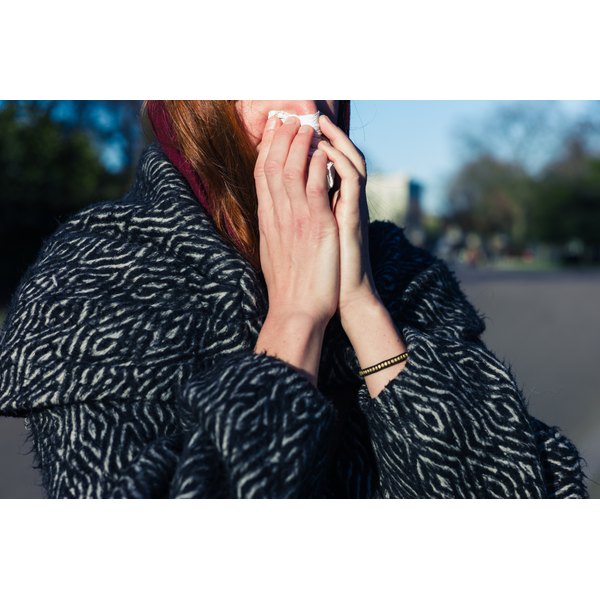 Your nose is plagued by dry, itchy, flaky patches that look unpleasant and feel just as bad. Whether caused by infection, sickness, weather or climate change, you don't have to live with dry flakes marring your face. Treat and protect dry patches to heal your face and help it to its best condition. If the problem persists, make an appointment with your doctor as your condition may require prescription medication.
You've Had A Cold
If you have had a cold, or any illness that included a runny nose, the skin nearest your nostrils is likely to be red, sore, dry and flaking. This is caused by the sensitive skin constantly being dampened by mucous and repetitively wiped dry by tissues. Applying petroleum jelly to protect the chapped skin can help, according to health website Tandurust.com.
Climate Change
Your nose may be dry and flaky due to a decrease in indoor or outdoor humidity. Air becomes drier in the winter and this can cause dry patches on your skin. If you have recently moved to or visited a place colder than your hometown, or if winter just began, climate change may be your culprit. Additionally, at the onset of winter your home or office may be very dry due to the building's heating.
Skin Disorders
The dry patches could be caused by a skin disorder. If the patches are red and thickened in addition to being dry, it could be psoriasis. If the patches are itchy, it could be eczema or one of several other disorders, according to the Skin Care Guide website.
Allergies
The dry patches could be an allergic reaction to something you are using on your face. Many soaps, cleansers and moisturizers contain unnecessary fragrances and other ingredients. Try a gentle product for sensitive skin. If you suffer from hay fever, asthma or allergies, the dry patches near your nose may be atopic dermatitis. Medical professionals are not sure why but allergy-sufferers are significantly more prone to this itchy skin disorder, according to Merck.com
Treatment
Try installing a humidifier in the places where you spend the most time. The CNN Health website suggests a humidity level between 30 and 50 percent to keep skin hydrated and healthy. A rich cream applied a few times a day to the delicate, dry patches is also helpful. "Harper's Bazaar" suggests Darphin Fibrogene Line Response Nourishing Cream for dry patches around the nose and mouth. "Cosmopolitan" suggests exfoliating the dry areas with a warm water-soaked washcloth before applying moisturizer. The magazine also recommends choosing a yellow-toned concealing cream to offset any redness on your nose.