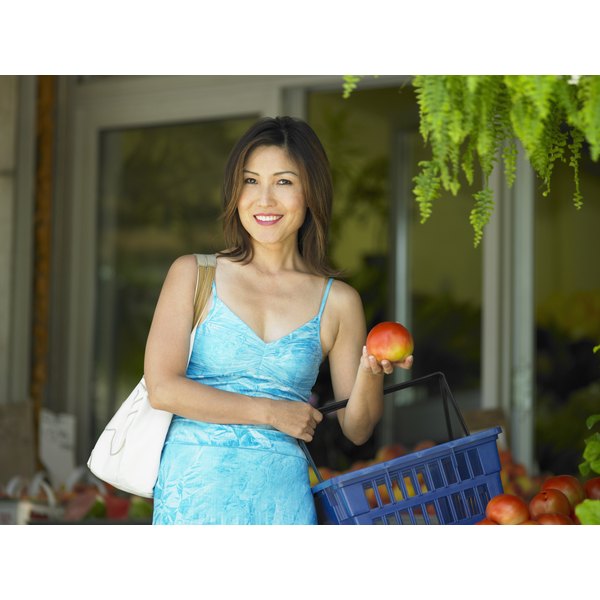 Healthy low-fat, low-calorie meals can be satisfying and delicious when you use the right ingredients and cooking techniques. Even if following a low-fat plan, the Institute of Medicine recommends you consume a minimum of 20 percent your daily calories in the form of fats, but choose unsaturated forms found in nuts, seeds, most plant oils and avocados. Also be sure to consume at least 1,200 calories per day as a woman or 1,500 calories per day as a man to meet nutritional needs, says Medline Plus. Low-fat, low-calorie meal plans that fit these parameters use whole, unprocessed foods as their foundation and do not require complex preparation.
Quick and Easy
If you do not have a lot of time or interest in cooking, a quick and easy low-fat, low-calorie meal plan is for you. A quick low-fat, low-calorie meal plan might feature a ¾-cup serving of whole-grain cereal such as bran flakes with 1/2 cup of skim milk, ½ oz. of walnuts and a banana for 322 calories and 11 g of fat . At lunch, enjoy a whole-wheat pita sandwich made with 3 oz. deli turkey, spinach leaves, sliced tomato and spicy mustard. Have an orange for dessert to make a meal with about 335 calories and 4 g of fat. For dinner, boil 2 oz. of dry, whole-grain pasta and enjoy with a ½-cup serving of jarred marinara sauce. On the side, toss together a green salad with cucumbers, ½-cup drained, canned chickpeas and a dressing made from 1 tbsp. olive oil and 1 tbsp. balsamic vinegar for about 500 calories and 15.5 g of fat. At snack times, enjoy plain yogurt with ½ cup of thawed, frozen blueberries for 150 calories and a cup of low-fat cottage cheese with chopped tomato and dill for about 200 calories. Both snacks contribute little fat to the daily plan.
On-the-Go
If circumstances find you out of the house for most meals, you can still follow a low-fat, low-calorie meal plan. When you leave the house in the morning, grab two low-fat cheese sticks and a medium apple for 200 calories and 8 g of fat. At lunch, order a salad with grilled or roasted chicken breast and vegetables for about 350 calories and 5 g of fat. Skip any toppings such as egg, bacon, avocado, nuts and cheese. Order a low-fat dressing or ask for oil and vinegar, keeping your oil serving to just a drizzle for another 35 calories and 4.5 g of fat. At dinner at a restaurant, order grilled white fish – such as tilapia or cod -- and ask for a plain baked potato and steamed vegetables on the side for about 400 calories and 2 g to 5 g of fat, depending on any sauces that the restaurant adds to the fish. At snack-time, order a non-fat latte at the local coffee store and in the afternoon, grab a 1 oz. bag of roasted almonds from the vending machine for an additional 280 calories and 15 g of fat.
Home-Prepared
If you have some time to prepare food at home, begin with a breakfast made with 1/2 cup old-fashioned oats cooked with 2 tbsp. of raisins, ½ oz of walnuts, cinnamon and a dash of salt. Add a ½ cup of skim milk to make a breakfast with 380 calories and 11 g of fat. At lunch, have a burger made with 4 oz. extra lean turkey, a whole-grain bun and carrot sticks on the side for about 400 calories and just 4 g of fat. For dinner, cook up a quinoa pilaf with a teaspoon of olive oil, garlic, mushrooms and chicken broth. Top with 4 oz. of steamed shrimp and roasted asparagus for about 300 calories and 5 g of fat. Squeeze ¼ of a lemon over the top for extra flavor. At snack time, enjoy a whole-grain English muffin with a tbsp. of peanut butter and an 8-oz. serving of low-fat kefir with a peach for 10 g of fat total and 360 calories.