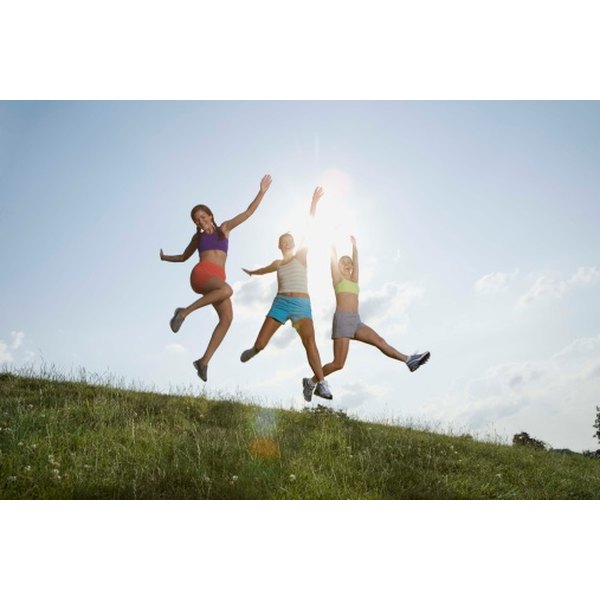 Yogurt raisins are a healthy food that provides numerous vitamins for your health. Yogurt raisins are inexpensive and easy to transport for on-the-go snacks. This food is tasty on its own or can be added to salads, granola, or a party mix with nuts and fruit slices. Teen Health notes that yogurt raisins contain vitamins and minerals that benefit health.
Iron
Yogurt raisins contain iron, which helps your body stay strong, notes Teens Health. For vegetarians who do not eat meat it is important to eat other foods that are rich in iron. This food choice is also particularly helpful for girls and women, as they lose iron from the body during the menstruation. Iron helps the body create new blood cells, notes the American Congress of Obstetricians and Gynecologists.
Calcium
Yogurt raisins are also a good source of calcium. Milk is used in the creation of yogurt. Calcium helps you keep your bones strong, notes Teen Health. Thus yogurt raisins are a great snack for teenagers, who are still building the bones in the body. Also, yogurt raisins benefit the health of elder women, who are at risk for osteoporosis, a disorder that makes bones vulnerable to fractures.
Fiber
Fiber is plentiful in yogurt raisins. Eating foods with fiber regularly will help you lower the risk of heart disease, stroke and constipation, notes the American Congress of Obstetricians and Gynecologists. Eating high-fiber foods regularly helps you boost overall health. The fiber in dried fruits, such as yogurt raisins, helps cancer patients avoid constipation, notes Cancer Alternatives of the Jonsson Cancer Center of the University of California Los Angeles. Also, yogurt raisins are soft and easy to chew for cancer patients with mouth irritation. They can be cut up into small pieces to make them even easier to eat.
Potassium
Yogurt raisins are a rich source of potassium, notes Women's Health. Foods that contain potassium help your body avoid the risks of high blood pressure by minimizing the effect of salt intake. Eating healthy foods keeps the body's potassium level steady and helps to keep muscles strong.
Vitamin D
Vitamin D is present in yogurt raisins. This vitamin works to keep bones strong and three servings of foods with vitamin D each day are an important part of a healthy diet, notes the National Institute of Diabetes and Digestive and Kidney Diseases.