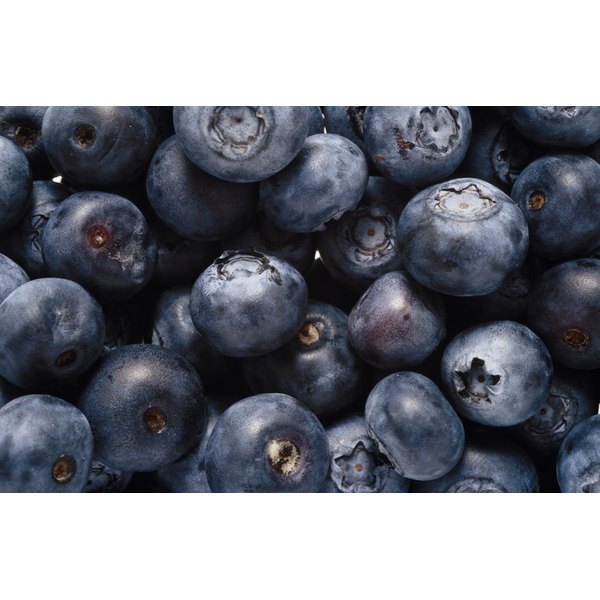 Munching on a handful of sweet, fresh blueberries might feel like a decadent indulgence, but those tiny berries pack a major nutritional punch. Blueberries have been used for medicinal purposes by American Indians for centuries, and since the berry is native to North America, you should have no trouble purchasing the fruit when it's in season and enjoying the many health benefits yourself.
A Bushel of Antioxidants
The body naturally produces free radicals during the metabolism process. Over time, free radicals can contribute to cancer and other diseases. Antioxidants found in many fruits and vegetables help neutralize these free radicals, and antioxidant-rich foods are an important part of a healthy diet. Blueberries are a particularly good choice because they contain a high level of antioxidants, particularly when eaten raw. Canned blueberries contain fewer antioxidants. The antioxidants may also help reduce age-related mental decline, as seen in 2005 laboratory studies on rats conducted by the Jean Mayer USDA Human Nutrition Research Center on Aging and published in "Neurobiology of Aging."
Berry Benefits
Blueberries may help reduce the risk of urinary tract infections by preventing bacteria from building up on urinary tract walls, according to Rutgers scientist Amy B. Howell in a 1999 article for "The Blueberry Bulletin," a newsletter published by the Rutgers Cooperative Extension of Atlantic County. These dark berries may also help lower low-density-lipoprotein cholesterol levels. The cholesterol-lowering power of blueberries is attributed to flavonoids, which give the berries their color. Low cholesterol levels are linked with a lower risk of cardiovascular disease and stroke.
Nosh on Nutrients
Blueberries are low in calories and rich in many other important nutrients. A cup of fresh blueberries has only 84 calories and less than half a gram of fat. They're rich in fiber, with 3.6 grams per 1 cup serving, and an excellent source of other vitamins as well. Each cup of blueberries contains 24 percent of your daily value of vitamin C, 36 percent of your needed vitamin K and 25 percent of your daily value of manganese based on a 2,000-calorie diet.
Consumption Considerations
If eating blueberries plain isn't your thing, try adding them to other foods to reap their numerous health benefits. Add berries to your breakfast by sprinkling them in cereal or oatmeal. Muffins and pancakes naturally sweetened with blueberries are also a good breakfast choice. Smoothies, yogurt and fruit salads make nutritious desserts when you incorporate blueberries and other nutritious fruits.