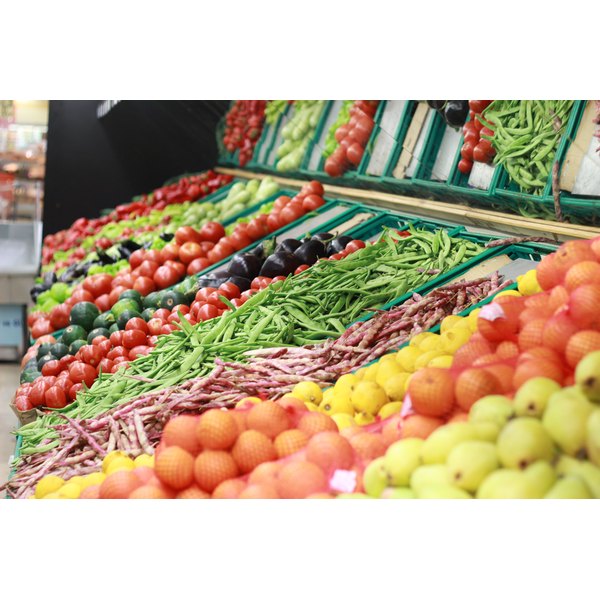 Because beans, fruits and vegetables are high in fiber and packed with other essential nutrients, they all make excellent additions to a healthy meal plan. Eating beans, fruits and vegetables in recommended portions can help you maintain a healthy body weight. In fact, vegetarians -- who often eat ample amounts of fruits, beans and vegetables -- usually have lower body mass indexes, blood cholesterol levels, blood pressure and incidences of stroke, Type 2 diabetes and some cancers than non-vegetarians, according to a December 2010 article in the journal, "Nutrition in Clinical Practice."
Fiber Benefits
Eating plenty of fruits, veggies and beans -- such as garbanzo, pinto, black and kidney beans -- helps you meet your daily fiber needs. This in turn helps reduce your risk for developing high blood cholesterol and heart disease. The Dietary Guidelines for Americans for Americans, 2010 suggests that men need 38 grams of fiber and women require 25 grams of fiber daily. The U.S. Department of Agriculture reports that a cup of pinto beans provides 15 grams of dietary fiber, a cup of broccoli contains 5 grams and one large orange provides just over 4 grams of fiber.
Protein Considerations
While most fruits and many vegetables are low in protein, some vegetables -- including beans and peas -- are excellent sources of dietary protein. The recommended protein dietary allowance as provided by the Institute of Medicine is 46 grams for women, 71 grams during pregnancy and 56 grams of protein daily for men. While a large orange contains about 2 grams of protein, 1 cup of broccoli provides about 4 grams, a cup of pinto beans contains 15 grams and 1 cup of green peas provides 8 grams of dietary protein.
Food Group Categories
Fruits are part of the fruits food group, while vegetables are included in the vegetables food group. However, because beans and peas -- also known as legumes – are rich in protein, they can be counted in either the vegetable or protein food groups, according to the Dietary Guidelines for Americans, 2010. ChooseMyPlate.gov reports that while 1 cup of beans or peas is a 1-cup equivalent from the vegetables group, one-quarter cup of these legumes counts as a 1-ounce equivalent from the protein food group.
Recommended Portions
The amount of fruits, vegetables and legumes you should eat daily depends on your total daily calorie needs for healthy weight management. The Dietary Guidelines for Americans, 2010 estimate many men require 2,000 to 3,000 calories daily, while women generally need 1,600 to 2,400 calories per day, depending on age and activity level. These guidelines suggest eating 2 cups of fruits, 2.5 cups of vegetables and 5.5 ounces of protein foods when consuming 2,000 calories per day, and eating 2 cups of fruits, 3.25 cups of vegetables and 6.5 ounces of protein foods when following a 2,500-calorie meal plan.