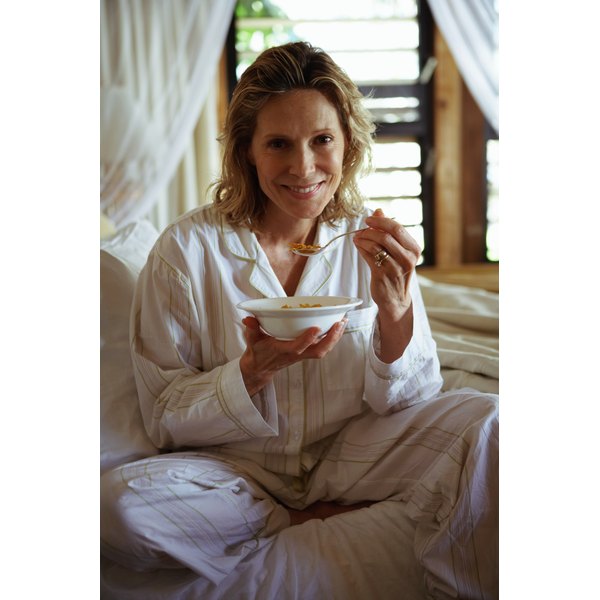 With all that meat you're eating on your low-carbohydrate diet, you may have a hard time meeting your daily fiber needs. Adults need 21 to 38 grams of fiber a day, and a bowl of Fiber One cereal can provide a significant chunk of that amount. If you're following a diet with 20 grams of carbs, it might be tricky to fit in the cereal, but it will be easier on a more liberal low-carb diet.
Fiber One Nutrition
With 25 grams of carbs per 1/2 cup, Fiber One cereal isn't low in carbs. However, a good cereal for a low-carb diet should have 4 grams of fiber or more per serving and no sugar, according to the Atkins website. Fiber One cereal more than meets both criteria. It has 14 grams of fiber per 1/2 cup and it gets its touch of sweetness from sucralose, not sugar.
Because fiber is an indigestible carbohydrate and doesn't have much of an impact on your blood sugar, some low-carb diets use net carbs when calculating the amount of carbohydrate in foods. Net carbs equal total carbs minus grams of fiber. That means a 1/2-cup serving of Fiber One cereal, with 25 grams of total carbs minus 14 grams of fiber, has only 11 grams of net carbs.
Milk or No Milk
Milk and cereal go together like peanut butter and jelly. But with 12 grams of carbs per cup of cow's milk, you may not be able to fit both milk and Fiber One cereal on your low-carb plan. You could cut back to 1/2 cup of cow's milk for 6 grams of carbs, making your total 17 grams for the whole bowl. Or you could use lower-carb milk alternatives. Unsweetened almond milk has zero carbs per cup and makes a good substitute, or if you have the carbs to spare, use a cup of unsweetened soy milk with 4 grams per cup.
If you're trying to figure out ways to add Fiber One cereal to your low-carb diet, you don't have to be traditional in how you eat it. You can also add it to your salad for extra crunch or mix it in cottage or ricotta cheese for flavor and texture. Or grind the cereal in a food processor to use as bread crumbs for your breaded chicken, fish or meatloaf.
Low-Carb Meal Plan With Fiber One
With 11 grams of carbs per serving you shouldn't have too much trouble fitting Fiber One into your meal plan, unless you're on one of the very low-carb plans. Say you're on 50 grams of carbs a day. For breakfast, you could have 1/2 cup of Fiber One cereal with 1 cup of unsweetened almond milk and two hard-cooked eggs for only 11 grams of carbs. At lunchtime, a grilled hamburger wrapped in lettuce with sliced tomatoes and a slice of cheddar cheese with 1 cup of raw spinach topped with 2 tablespoons of ranch dressing gives you a meal total of only 5 grams of carbs. In the mid-afternoon you might enjoy another 1/2 cup of Fiber One cereal with 1/2 cup of cottage cheese. This snack has 15 grams of carbs. End the day with broiled salmon, 12 asparagus spears and 2 cups of mixed greens topped with 2 tablespoons of Caesar dressing for 7 grams of carbs.
Other Fiber One Cereals
Fiber One cereal has expanded its line to include a number of flavored cereals, including Caramel Delight, Frosted Shredded Wheat, Honey Clusters, Raisin Bran Clusters, and Nutty Clusters and Almonds. Although these cereals are a good source of fiber, 10 grams per cup, they're much higher in carbohydrates. The flavored versions contain added sugar and 45 to 50 grams of total carbs per cup -- or 35 to 40 grams of net carbs. While these cereals may be tasty, they may not fit as nicely into your low-carb meal plan.