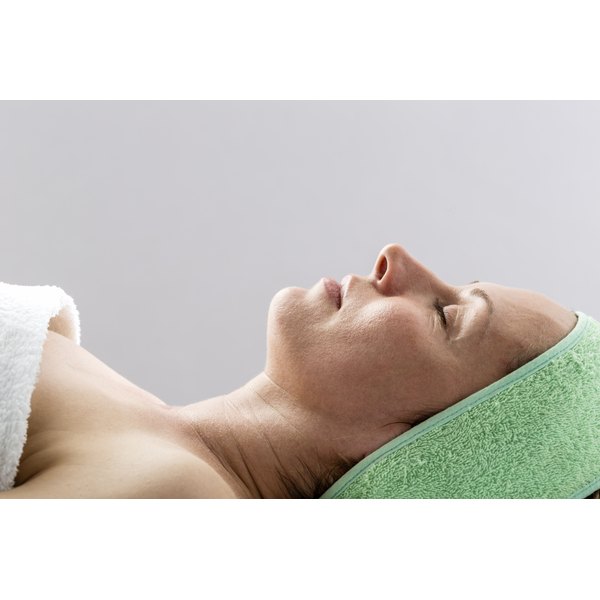 If you have stubborn acne, you may have skin that's failed to respond to multiple different treatments, both over-the-counter and prescription. Unfortunately, that's not uncommon -- according to the American Academy of Dermatology, you may need to try a variety of different treatments before you find one that works for you. Oracea, an antibiotic normally prescribed for rosacea, may represent one option.
Significance
So-called "normal" acne results when your skin produces too much oil, which then clogs your pores and induces bacterial infection and inflammation, according to the Cleveland Clinic. Acne strikes mostly teenagers, although adults can get pimples, too. Rosacea, an inflammatory skin condition that can resemble acne but stems from different causes, affects people in their 30s and older.
Function
Oracea, also known as doxycycline, is an antibiotic that falls in the tetracycline family of antibiotic drugs, according to the website Drugs.com. Physicians prescribe Oracea to treat the pimple-like bumps and inflammation found in patients with rosacea. However, physicians can prescribe Oracea for any use they think will be effective, and some do prescribe it for normal acne.
Research
At least one study backs use of Oracea and other formulations of doxycycline in normal or common acne, as opposed to rosacea. In that study, published in the February 2010 edition of the medical journal "Cutis," Dr. L.S. Gold and colleagues used doxycycline in combination with adapalene and benzoyl peroxide, two other acne treatments, to treat patients with severe acne. They concluded that the combined medication worked well to reduce acne-causing bacteria, particularly in the first four weeks of treatment.
Usage
If your physician prescribes Oracea for your normal acne, as opposed to rosacea, take it exactly as prescribed, according to Drugs.com. Potential side effects include trouble swallowing or a swollen tongue, nausea or other gastrointestinal effects such as diarrhea, white patches or sores in your mouth, and pain and sores around your genitals. Women may get yeast infections while taking Oracea. Do not take Oracea if you are pregnant, since it can permanently stain your unborn baby's teeth.
Considerations
Although the U.S. Food and Drug Administration hasn't approved Oracea specifically for normal acne, as opposed to rosacea, it could have a positive effect on your acne and your complexion. However, if your physician prescribes it, you may need to combine it with topical medications such as benzoyl peroxide to get the best effects, according to the website MayoClinic.com.