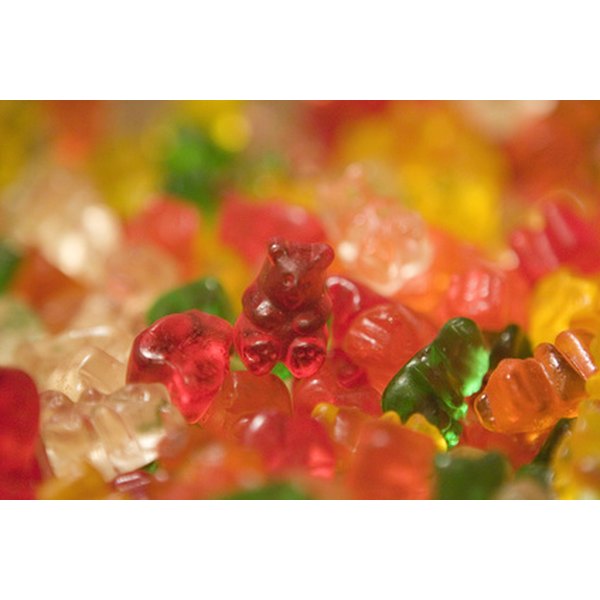 Approximately two-thirds of Americans consume a multivitamin supplement each day, according to the Colorado State University Extension. While most experts argue that food serves as a better source of nutrients than supplements, multivitamins may help ensure you get enough of vital nutrients that your diet may be lacking. Gummy vitamins provide a tasty alternative to traditional pills, making them a popular choice for children and adults alike.
Risk of Overdose
While most gummy vitamins contain relatively low doses of many vitamins and minerals, it's still possible to overdose if you eat more than the recommended daily allowance. Gummies with iron pose the biggest danger, so parents should avoid any gummy vitamins that contain iron. Even adults can overdose by eating too many iron-containing gummies. Fat-soluble vitamins such as vitamin A, D, E and K also pose a risk of overdose. According to the National Library of Medicine, several brands of gummy vitamins contain 100 micrograms of Vitamin D per unit. The American Academy of Orthopaedic Surgeons warns that more than 2,000 micrograms of Vitamin D each day can pose danger, so a person who eats 20 of these gummies may suffer health risks. Water soluble vitamins, such as vitamin C, pose no danger in terms of overdose because any excess leaves the body during urination.
Benefits
The flavor and bright colors of gummy vitamins may make kids and adults more likely to take their vitamins each day. These supplements can fill some nutritional deficiencies in your diet, and may be an effective way for kids to take their vitamins if they have trouble swallowing pills.
Warnings
The Connecticut Poison Control Center warns that the appearance of gummy vitamins may increase the risk of accidental poisoning for kids. Because these supplements look so much like candy, young kids may mistake them for gummy bears, leading to possible over-consumption. USA today also cites an increases risk of cavities for kids who consume gummy vitamins compared to kids who do not. A 2009 FDA study also found that many gummy vitamins contain surprisingly high levels of lead, though these levels were comparable to those in other multivitamins.
Dosage
Most gummy vitamin manufacturers recommend one gummy a day for children between the ages of 2 and 3, or two vitamins for kids ages 4 and up. Children under 2 should not take these vitamins due to a risk of choking.
Expert Insight
The Medical College of Wisconsin suggests that most gummy vitamins are nutritionally insufficient. This is primarily because these supplements are designed for children, and manufacturers want to minimize risk of overdose. Despite the low level of nutrients they contain, gummy vitamins serve as a low-cost method of insurance against missed nutrients.