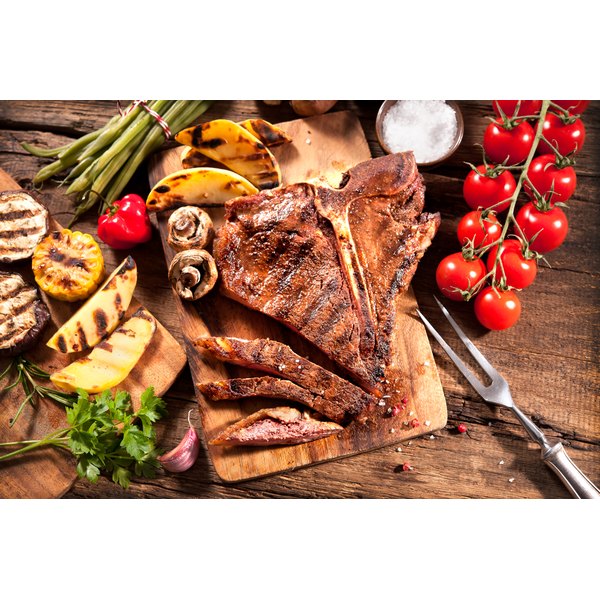 Few foods say "summer" in the same way as a T-bone steak grilled to perfection and served with sides such as a baked potato and salad. This steak, a staple of barbecue season, provides a source of protein and a number of nutrients. The exact nutritional value of your T-bone steak depends, in part, on how it's cut and prepared.
Cut Dictates Steak's Calories
According to the U.S. Department of Agriculture's National Nutrient Database, a 3-ounce serving of T-bone steak, grilled with the bone in and trimmed down to 1/8 inch of fat, contains 180 calories, 23.7 grams of protein, 8.8 grams of total fat, 3 milligrams of iron, 186 milligrams of phosphorus, 246 milligrams of potassium and 57 milligrams of sodium. A 3-ounce serving of T-bone steak, trimmed to zero fat and broiled, meanwhile, contains 168 calories, 22.1 grams of protein, 8.2 grams of total fat, 3.1 milligrams of iron, 183 milligrams of phosphorus, 278 milligrams of potassium and 60 milligrams of sodium. When preparing your steak, remember that adding steak sauce can increase its calories and sodium content.