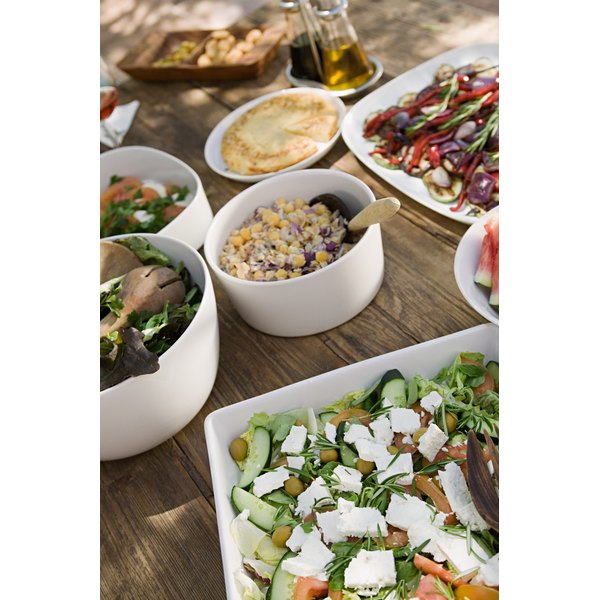 According to the Mayo Clinic and the Medical Center at University of California at San Francisco, some of the simplest diet plans are those that follow the USDA's guidelines for healthy eating. A consistent diet comprised of foods in proportion with the Food Guide Pyramid's recommendations will often help you lose unwanted weight or enhance your basic weight management plans.
Meal Planning
MayoClinic.com notes that many of the easiest diet plans include servings of fresh vegetables, fruits and lean meats. You should try to select white meats, such as chicken or turkey breast, which are low in fat, or fish, such as salmon, which is rich in omega-3, a healthy fat. Choosing fresh products and cooking at home will limit the amount of additives, such as salts, oils or sugars.
Shopping
According to Helpguide.org, you should plan and organize your meals on a weekly basis. By planning ahead, you are more likely to shop for specific products, which often limits the purchase of unnecessary items that may be pre-made and high in fat or sugar. Shopping with a specific plan can be an essential behavioral tool that will help you stick to a healthy diet for the long run.
Dining Out
When dining in restaurants, you should select fresh salads and steamed or broiled entrees. If the portions are large, it is often helpful to request that the waitstaff place half the entree in a take-out container to control the amount of food that's consumed at the table. Leftover portions can be eaten at a later lunch or dinner.
Peer Support
According to MayoClinic.com, many people seek diet support from peer groups within their communities. In many cases, you can gain valuable tools for meal planning and healthy recipes as well as motivational support to continue with healthy eating plans. Exercise is also a critical part of healthy dieting, and you should maintain at least 30 minutes of vigorous activity a day. Many people find it helpful to join exercise groups, classes, or running or walking clubs.
Expert Insight
Sources at Helpguide.org note that successful diets typically do not restrict any specific food type. The simplest diet plans incorporate healthy portions of fresh fruits, vegetable and meats or protein substitutes, such as tofu. Eating a balanced meal three times a day with healthy snacks, such as fruits or nuts, will control hunger and cravings and allow you to maintain healthy levels of nutrition and energy.