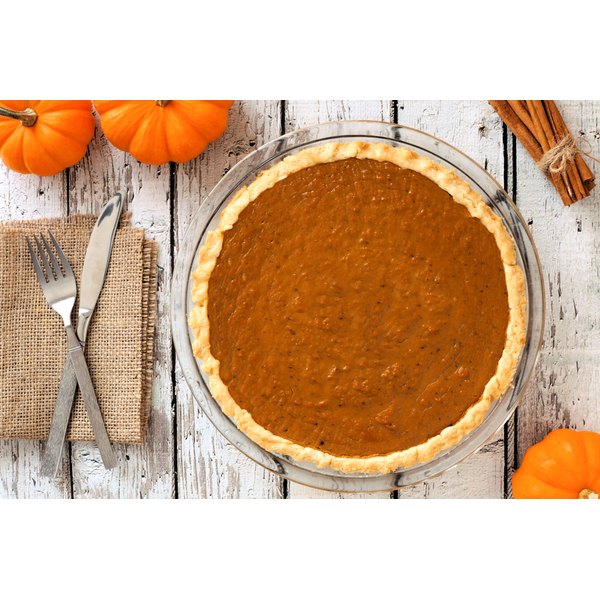 Libby's canned pumpkin contains 100 percent pure pumpkin; there are no other added ingredients or preservatives included in the product. The canned pumpkin is blended to a very smooth consistency and has a natural, deep orange color. The Libby's brand is owned by Nestle, a company that makes many products for baking and cooking.
Nutritional Information
Libby's canned pumpkin is a low calorie food at just 40 calories in every ½ cup serving. Only five of those calories come from fat. There is only .5 g of fat in every serving. The canned pumpkin does not contain any saturated fat, cholesterol or sodium. There are 9 g of carbohydrates and 5 g of fiber in each serving. The pumpkin has 4 g of sugar and 2 g of protein. Libby's canned pumpkin is a good source of vitamin A; it contains 300 percent of the recommended daily value. It also has 2 percent of the recommended value of vitamin C, 2 percent of the recommended value of calcium and 4 percent of iron.
Where to Buy
Libby's canned pumpkin is available in most grocery stores. You can log onto the Very Best Baking website and check the store locator to find a store near you that carries the product. You will need to enter your zip code and choose the Libby's 100% Pure Pumpkin in the drop-down menu. The website will generate a list of stores that carry the product. Once you are in the store, the pumpkin is typically located on the canned vegetable aisle.
Available Sizes and Uses
Libby's 100% Pure Pumpkin is available in two sizes. For smaller recipes, choose the 15 ounce can or for larger recipes, a 29 ounce can is available. The canned pumpkin is appropriate for use in many recipes including pumpkin pies, pumpkin bread and any other dish that requires pureed pumpkin. Since there are no additives, flavorings or spices in the canned pumpkin, you are free to season and spice up your dish any way that you choose.