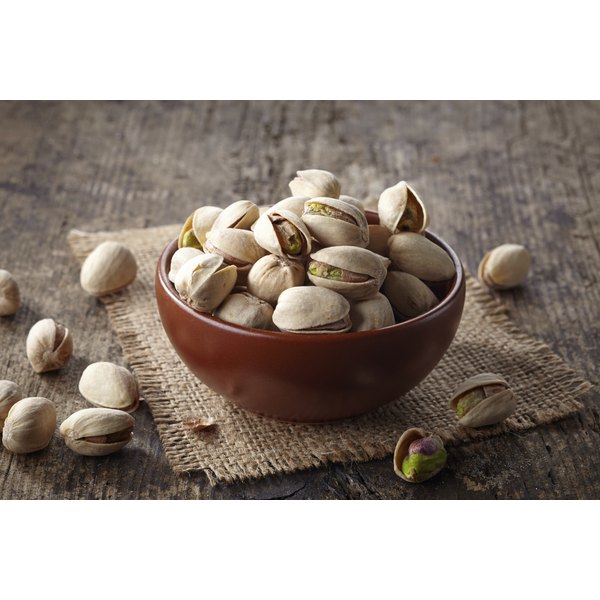 Type 2 diabetes accounts for between 85 and 95 percent of all diabetes cases and is most prevalent in those who are 40 years and older. It occurs due to a lack of the hormone insulin, or insulin not working properly, but it can be managed with diet and exercise, along with medication. When you have Type 2 diabetes, the foods you snack on play a big role in your energy level, general health and control of your condition.
Pack a Protein Punch
The American Diabetes Association suggests including protein every time you have something to eat. Preferably, this protein should be low in saturated fat, or high in omega-3 fats. Low-fat meats such as chicken or turkey breast make good snacks, as do canned oily fish like mackerel or salmon. You can add low-fat, low-sugar dairy foods like cottage cheese and nonfat yogurt to this list too.
Nutrient-Dense Nuts
Healthy monounsaturated fats -- the kind found in nuts -- are key in managing blood sugar levels, according to the National Institutes of Health. In particular, nutritionist Joy Bauer recommends almonds because they are high in healthy fats and contain magnesium, which helps control carbohydrate metabolism. If you're not a fan of almonds, pistachios, pecans, walnuts and hazelnuts, and nut butters will suffice.
Crackers for Snackers
Snacking when you have Type 2 diabetes doesn't mean having to go for low-carbohydrate options all the time, but it does mean picking the right types of carbohydrate. The University of Rochester Medical Center website notes that the majority of your carbohydrates should be whole grain ones, so make whole-grain crackers, bread and brown rice cakes staple snacks. The Health website recommends combining whole-grain crackers with cottage cheese and grapes for a snack that delivers slow-digesting carbs, protein and nutrients.
Fight Diabetes with Fruit
While fruit does contain sugar, it also provides vitamins and minerals and is an easy, healthy snack. Diabetes UK advises eating a wide variety of different fruits, but also warns that pre-made fruit smoothies and juices can contain a lot of added sugars, so you need to exercise caution. Stick to mainly fresh fruits that are high in fiber, such as apples, strawberries, kiwis and pears.