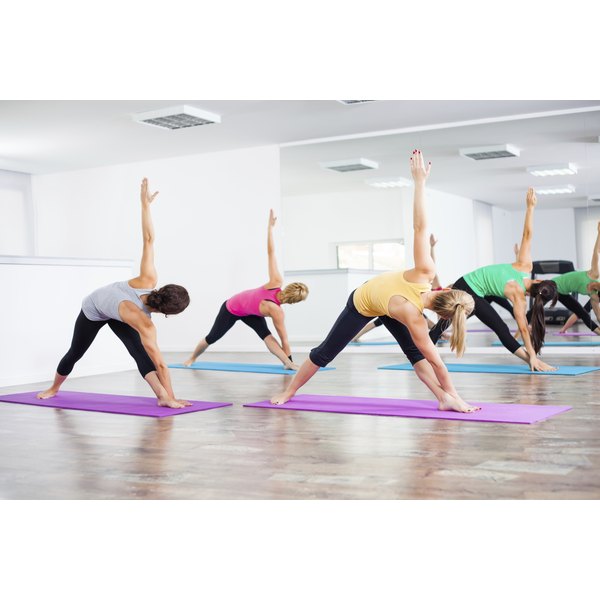 Becoming a certified yoga teacher can be a challenging, yet rewarding experience. The reasons for seeking certification vary. You may want to share your own joy of yoga by teaching or you might want to deepen your own practice. Yoga teacher training generally requires significant determination and discipline. Research can help make the experience more enjoyable.
Decide what type of yoga you want to teach and if there is a certain demographic that you are interested in reaching, says Yoga Alliance. There are different styles of yoga, including ashtanga, bikram, vinyasa, iyengar and anusara. Think about what types of yoga you enjoy practicing and where you would best be able to communicate your passion. Additionally, decide whether you would like to teach adults, children, prenatal, the disabled or incorporate yoga into some type of mental or physical therapy.

Search for yoga teacher training that is right for you. Yoga Alliance says there are important factors to consider when choosing a teacher-training program, including the teachers with whom you will be studying. It's best to know something about the teachers ahead of time so you can be sure their style is a match to yours. The format of the program also is important. Yoga teacher trainings are offered in a variety of formats, including 10-day intensives, weekend programs and programs that can take up to a year to complete. Consider size of the training and whether you learn better in small groups or if you prefer a larger class where you will have an opportunity to meet many new people.

Check if your preferred program is registered with Yoga Alliance, which is one of the main organizations that sets the standards for yoga education. If your program is registered with Yoga Alliance, then your employers and students will know that you are highly qualified. Allied Health World says Yoga Alliance offers credentials for 200 hours and 500 hours of certification training.

Inquire about the program's payment policies, suggests Yoga Alliance. Many yoga teacher-training programs can be expensive, costing thousands of dollars. Be clear on the cost of your specific program ahead of time and determine if it fits within your budget.

Warnings

Yoga teacher training can be physically demanding, so check with your doctor before embarking on any program.