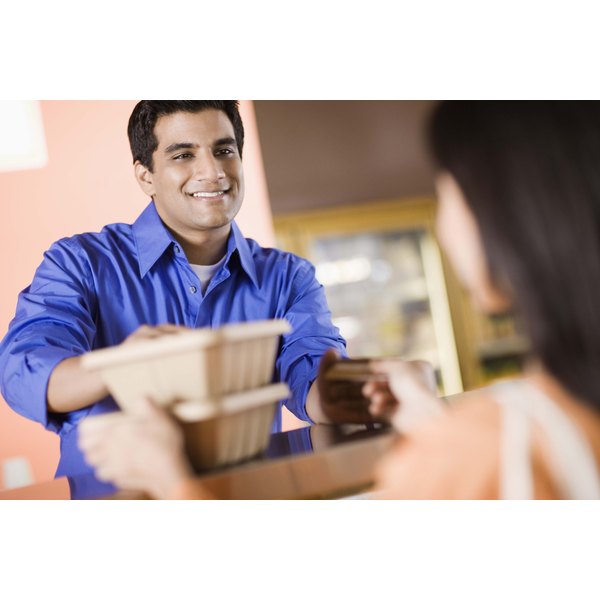 The original 2003 book "The South Beach Diet: The Delicious, Doctor-Designed, Foolproof Plan for Fast and Healthy Weight Loss" quickly became a best-seller. The diet, designed by cardiologist Dr. Arthur Agatston, aims to wean you of refined sugars and sweets while helping you to lose weight without feeling deprived. The diet consists of three phases, the first of which promises you will lose between 8 and 12 lbs. Many common foods are discouraged in Phase 1 to help you jump-start your weight loss. You can follow Phase 1, even if you do not have time to prepare the recipes provided in the book.
Buy Single Servings
Lean proteins, like fish, shellfish, chicken, turkey, lean beef, eggs and soy, form the foundation of Phase 1 meals on the South Beach Diet. Stock your freezer with single portions of skinless chicken breast, tilapia fillets or lean turkey burgers so you can pull one out, thaw it in the microwave, sprinkle with salt and pepper and broil in the oven.
Prepare in Advance
Cook several skinless chicken breasts and hard-boil a half-dozen eggs so you can grab them during a busy week. Bring a chicken breast with a container of lettuce and tomatoes to work for lunch. Grab two eggs with a few cherry tomatoes and a slice of deli ham for a quick version of the baked bacon, egg and tomato sandwich recipe featured by the South Beach Diet.
Use the Deli
Deli meat, like oven-roasted turkey or plain, lean ham, also serve as a quick meal options. Roll ham into romaine lettuce leaves for a fast lunchtime pinwheel "sandwich." Chop turkey and ham to use as a topping for a quick dinner salad made with pre-washed bags of lettuce, cucumbers and green peppers. Toss the salad with a dressing made with unsaturated fats, like olive oil.
Quick-Prep Vegetables
The South Beach Diet encourages loads of vegetables, especially in Phase 1. The focus is on watery, fibrous types instead of starchy varieties. Frozen bags of steam-in-the-bag vegetables, without sauce, make a quick and easy side dish for dinner or lunch. Broccoli, green beans and cauliflower are some of your best options. Make quick steamed asparagus by placing it in a shallow, microwavable bowl with a small amount of water and topping with a paper towel. Cook on high for about 3 to 5 minutes, drain and grate 1 tsp. of Parmesan cheese on top for a side dish for broiled fish or poultry.
Clear Your Pantry
Rid your cupboards of white pasta, rice, bread and cereals. Keep fruit and starchy vegetables out of the kitchen for the two weeks of Phase 1 so you are not tempted to indulge. Replace these foods with nuts, string cheese and chopped vegetables like celery and pepper strips to make quick, between-meal snacks. Snacks are "mandatory" during Phase 1 of the South Beach Diet.