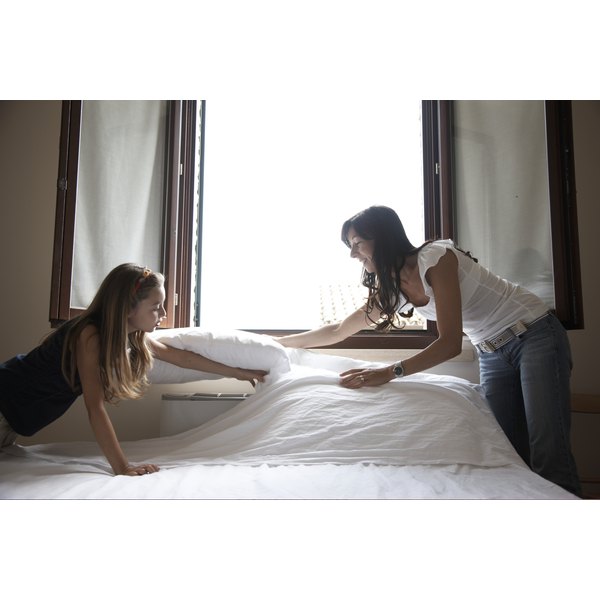 As your children mature, it's smart for you to begin teaching concepts such as responsibility, earning wages for work done, and achievement of bonuses through incentives by giving them chores. Chores help children feel like vital, contributing parts of their household. Establish chore charts and potential earnings based on your child's age and the complexity of the task. Allow your youngsters the opportunity to earn extra money on top of a small to moderate base allowance by using chore charts.
Children 5 to 9
Children as young as 5 can qualify for an allowance by being expected to keep their room picked up, put their dirty clothes in a laundry basket, make up their beds, set the dinner table without being told, feed and water pets, wipe off the table after meals, and to get up for school and go to bed on time without fuss. Opportunities for earning a quarter or two in extra money might be helping to pull weeds and plant in the garden, dusting furniture, hunting for cobwebs, or dusting furniture with their little hands in a sock. Kids 7 through 9 can also be taught to move freshly washed clothes from the washing machine to the dryer, to help fold laundry, unload the dishwasher and put away their own clothes.
Children 9 to 12
Age-appropriate increases in responsibility and complexity of tasks are reflected by an increase in amounts paid for extra chores, perhaps 50 cents to a dollar each. Children this age are larger and stronger; they can do slightly more physical tasks such as taking out the trash, changing bed linens, vacuuming carpets and car interiors, sweeping and/or mopping floors in the kitchen, playroom, bathroom, patio or front walk, raking leaves, doing laundry for the family, cleaning out the microwave and washing dishes or the car. At 11-12, children can also begin learning how to prepare simple dishes for family meals such as tuna salad, burritos, spaghetti, hamburgers and meat loaf under adult supervision.
Ages 13+
Moving into high school, your child's schedule becomes more demanding as school hours and time spent on homework increases. A child in advanced placement classes, or one involved after school sports or other extracurricular activities, may not have as much free time for extra chores as before. Children at this age can begin earning larger amounts by babysitting, ironing, cleaning closets and drawer, cleaning out the refrigerator and/or freezer, going to the store with a list, preparing entire meals, changing light bulbs, cleaning ceiling fans, helping to bathe and dress younger siblings, and doing laundry from start to finish. Assisting with more challenging tasks such as washing exterior windows with an extending squeegee, watering the garden, mowing the lawn, cleaning and reorganizing the basement or garage and helping Dad with heavy hard work are other possibilities for extra income for teens.
Chore Tips
If you have two or more children, create some chores that require them to work as a team. Learning to cooperate with others, even if you don't see eye to eye, builds character and teaches valuable conflict resolution skills. Be sure to include consequences if your child doesn't complete her chores within the required time frame, or puts in little to no effort that results in a half-done job. Avoiding responsibility or slacking off should require the child to perform the required chore satisfactorily, with an additional chore added as a consequence. Provide a bit of fun and motivation by surprising your child with a chore he'll enjoy--such as "play catch with the dog," "find mom for a hug and kiss" or "check freezer for your favorite ice cream bar."