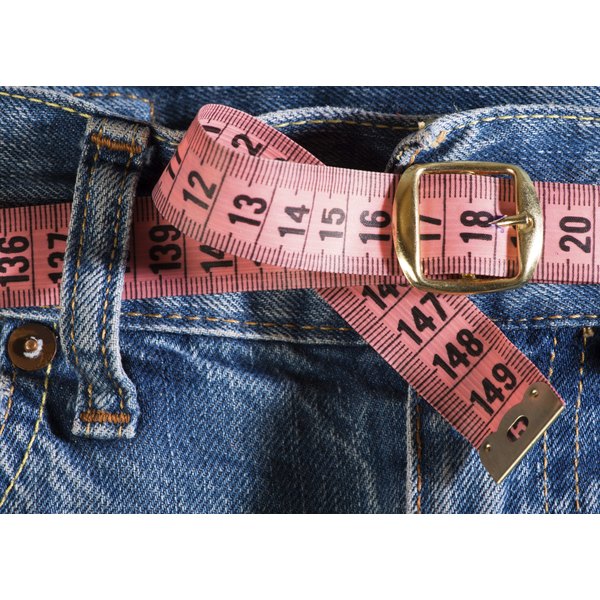 The Centers for Disease Control and Prevention reports that, between 2007 and 2008, 34 percent of American adults were obese and 34 percent were overweight. According to the National Heart Lung and Blood Institute, being overweight or obese raises your risk for developing heart disease, stroke, diabetes and other potentially life-threatening illnesses. While losing weight will improve your overall health, resulting excess skin can pose different problems.
About Excess Skin
Excess skin is the skin you're left with after losing a substantial amount of weight, notes the Weight Loss Surgery Center from the University of Minnesota Physicians. Typically, you will see this extra skin flab on your stomach, under your arms, on your legs and elsewhere. Not everyone who drops pounds will have droopy skin. The people who are more likely to develop this cosmetic issue are those who lose 100 pounds or more.
How it Occurs
When you lose a massive amount of weight, depending on your skin type, age, genetics and other factors, your skin may not retract back to your lighter body frame. The amount of loose skin you will have also has to do with where you lose your weight and the elasticity of your skin. Unfortunately, according to the University of Minnesota Physicians, there is no way to entirely tone flabby skin.
Concerns
Dropping dozens of pounds could reverse your chances of developing heart disease and diabetes, but it could also open the door to other health issues. In a 2006 study published in the journal "Advances in Psychosomatic Medicine," author Rajiv Chandawarkar indicates that extra skin and soft tissue on the belly and elsewhere can cause musculoskeletal strain, walking limitations, hygiene problems, as well as bowel and bladder issues. ObesityHelp, a peer support community for people with weight problems, indicates that with dramatic weight loss, surplus skin can cause skin irritation and infection, both painful problems.
Treatment
A compression garment, typically used after surgery to minimize inflammation, can provide support for the excess skin on your stomach. An abdominoplasty is a surgical procedure that removes redundant skin on the abdomen. Your surgeon can also tighten the abdominal muscle. If you've had bariatric weight loss surgery, the University of Minnesota Physicians Weight Loss Surgery Center suggests waiting at least two years before having an abdominoplasty. You should also be at a place in your weight loss that your weight is stable, with only a 5-lb. fluctuation rate. You should expect some scarring with this procedure.
Exercise
Exercise can tighten and add muscle to your abdomen, which can help minimize some flabbiness, but it won't eliminate the problem all together. To tighten your abs, the American Council on Exercise suggests a variety of exercise that you can do at home or at the gym with little, if any, exercise equipment. According to the Physical Activity Guidelines for Americans, healthy adults should exercise at least 30 minutes a day, five days a week.