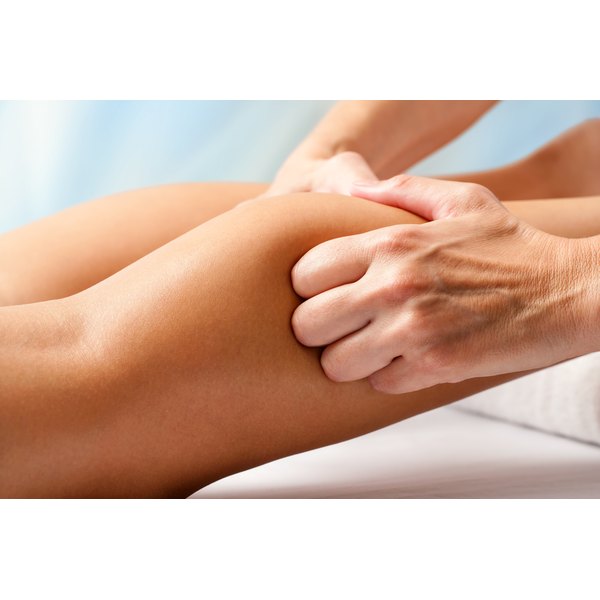 According to Bart Bishop, DPT, when he conducted research on his patients experiencing neck pain, they preferred Biofreeze 8 to 1 compared to ice. Biofreeze is a menthol-based pain relieving gel that can be used topically for sprains, strains, arthritis and tendonitis. Biofreeze also contains an herbal formula called ILEX, which is a South American herb traditionally used in herbal salves.
Instructions
Choose between the spray, roll on or gel form of Biofreeze. The gel form works well for large areas with deep pain where the gel may need to be massaged into the muscle. Because it contains menthol, you would need to use the gel when there is immediate access to a sink because it can cause burning in the eyes if they are rubbed after application. For those who prefer to keep their hands free of the menthol or who do not have access to a sink, a roll-on version of Biofreeze is available. A new spray has also been added to the market, which would work well for hard to reach areas such as the shoulders and back. The new spray also has additional ingredients such as arnica and calendula.

Find a health care practitioner in your area who sells Biofreeze products. You do not need a prescription for Biofreeze, but it is not available in retail stores. It is, however, sold by many chiropractors and massage therapists. A practitioner in your area can be found on the Biofreeze website. Many practitioners will have samples available so that you can try the product before purchase.

Apply Biofreeze to areas of pain up to four times throughout the day. Menthol is a temporary pain reliever, so the soothing effects of Biofreeze will wear off. It is available in travel size containers so that you can have it on hand to use when necessary.

Warnings

Biofreeze should not be used on any area that has an open wound, combined with any other lotions, or put near the eyes or mucous membranes.