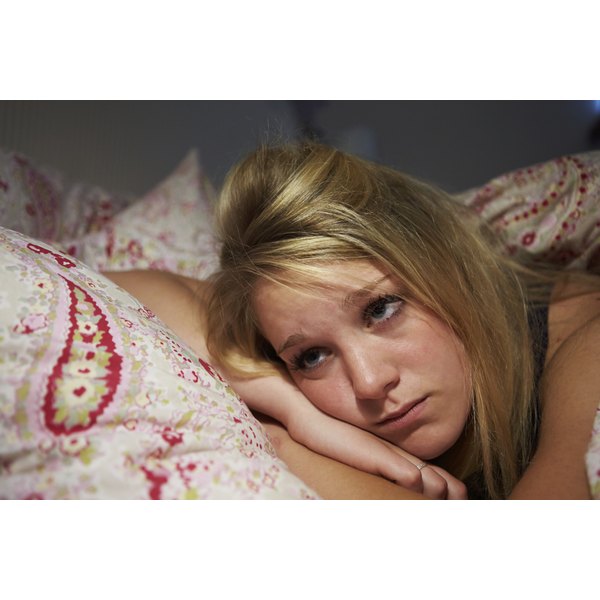 Sodium valproate, which is also simply called valproate, is a medication indicated to treat epilepsy, a condition characterized by recurrent seizures. This medication may be administered orally or by intravenous, or IV, injection. If your doctor recommends treatment with this medication, you should discuss the side effects of sodium valproate with her before receiving your first dose.
Injection Site Reaction
If you receive sodium valproate by injection, you may develop a skin reaction at the injection site. During clinical trials for this medication, approximately 2 percent of patients develop an injection site reaction, according to RxList. Injection site reaction characteristics may include redness, swelling or pain. These side effects are temporary and typically subside within a few hours following treatment. If you develop a severe or persistent skin reaction after receiving a sodium valproate injection, consult your physician as soon as possible.
Upset Stomach
Oral or IV administration of this medication may irritate your stomach. Consequently, you may develop uncomfortable upset stomach symptoms, including stomach cramps, nausea, indigestion or vomiting, Drugs.com warns. You may also experience bowel movement changes, such as diarrhea or constipation, which may exacerbate stomach discomfort. Unusually pale or bloody stools may be a sign of a severe reaction to sodium valproate and such side effects should be promptly discussed with your doctor. You may also develop changes in your normal appetite level, which may contribute to unintended weight gain or loss.
Dizziness or Headache
Episodes of dizziness or headache pain may arise after you receive a dose of sodium valproate. Approximately 5 percent of patients reported feeling dizzy during clinical trials for the injectable form of sodium valproate, RxList reports. If you feel dizzy, remain seated until this sensation passes in order to prevent injury from tripping or falling down. Additionally, bothersome head pain may be controlled through the use of an over-the-counter analgesic medication such as acetaminophen.
Sleeping Difficulties
Sleeping difficulties may occur while you are taking this medication. You may find it difficult to fall asleep, which can cause you to feel excessively fatigued during the day. Increased daytime fatigue may make it hard for you to focus or remain attentive during your normal daily tasks.
Hair Loss
Minor hair loss may occur during treatment with sodium valproate, National Health Services reports. You may notice that the hair across your scalp appears unusually thin or that your eyebrows or eyelashes become sparse. This sodium valproate side effect is temporary and normal hair growth returns once treatment with this medication ends.
Menstrual Cycle Changes
If you are a woman, you may develop menstrual cycle changes as a side effect of sodium valproate, according to NHS. Your period may occur irregularly or you may be more susceptible to developing ovarian cysts. Talk with your doctor about these potential side effects before you start taking sodium valproate.