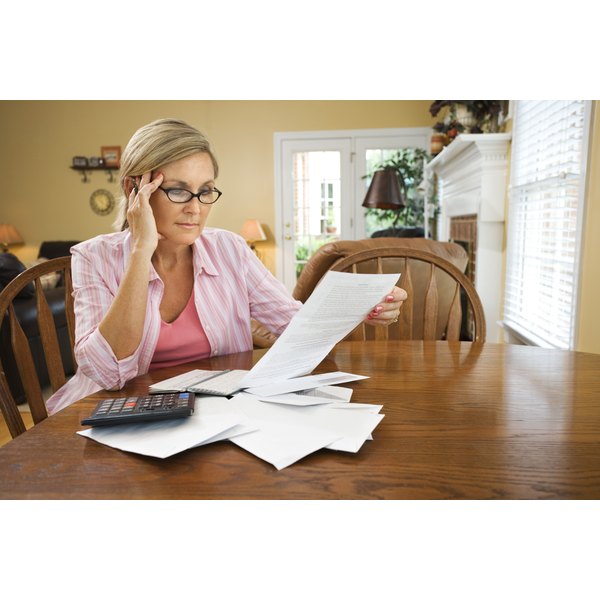 Losing your job, taking a lower paying position, or struggling to find a decent job puts many families in a financial pinch. A drop in family income also means you may have difficulty refinancing your home. However, when interest rates decrease, refinancing can lower your monthly mortgage payment, driving down monthly living expenses. If you struggle with a low income, there are several options for decreasing your monthly mortgage payment.
Request a copy of your credit report. A credit score dictates your ability to qualify for a loan refinance. You are entitled to a free credit report once a year from AnnualCreditReport.com (see Resources), which is run by all three credit bureaus -- Equifax, Experian and TransUnion. Review the report for accuracy. If you find errors, like inaccurate late payment reporting, contact the reporting agency and file a dispute. Correcting these errors will drive up your credit score and can make it easier to refinance your mortgage.

Lower your monthly bills. When calculating your ability to refinance, the lender will add up your monthly payment obligations and compare them against your income. Consolidate credit cards and other payments if doing so will lower your monthly debt obligations.

Investigate state-sponsored low-income refinance programs. Some states, mostly in the eastern U.S. and midwest (see References), are partnering with lenders to offer refinance programs to low-income families who are struggling with high-cost loans, subprime loans, and the effects of predatory lending practices, according to the National Governors Association. Contact your state housing authority to find out about programs in your area.

Apply for a Fannie Mae refinance plus, or Refi Plus, loan. Low-income families may benefit from the Refi Plus option if they owe more than their home is worth. Ask your lender if your loan is backed by Fannie Mae. If so, you can apply for this option, allowing you to refinance up to 125 percent of the home's value.

Contact your lender to discuss other options. If your state doesn't have a low-income program in place, there are other options. If your total debt is higher than 55 percent of your income, you might qualify for a loan modification, according to CNN Money. A loan modification, as described on the government's Making Home Affordable website (see Resources), can allow you to lower monthly payments during times of financial hardship.

Tip

If your lender says your debt-to-income ratio is too high, consider taking on a second job for several months and reapplying. This will drive up your income, making it easier to quality for a refinance.

Warnings

If you are in default on your mortgage, contact your lender right away. Most lenders are willing to work with borrowers to avoid foreclosure.