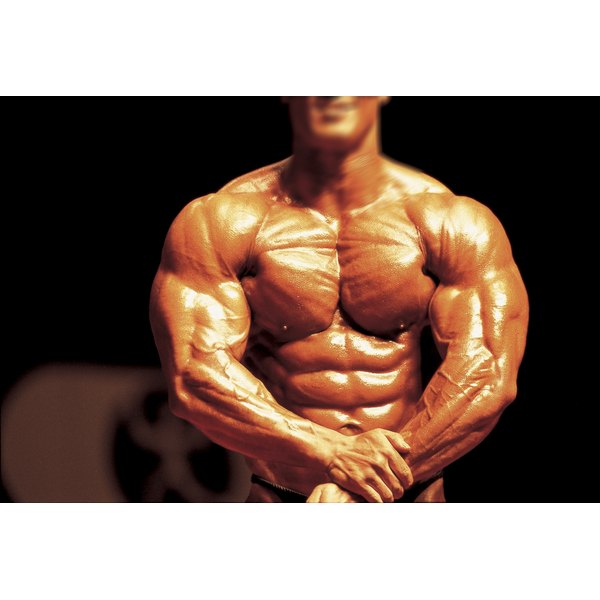 Manufactured by Bio-Engineered Supplements and Nutrition Inc, Nitrix 2.0 is a nitric oxide precursor that claims to support workout performance, endurance, pumps and recovery. A substance that's naturally produced in your body, nitric oxide helps deliver messages between cells, regulate activities of the circulatory system and organs, and release hormones and adrenaline. From a fitness perspective, nitric oxide helps deliver more nutrients to your muscles, which assists with their growth and recovery. The Nitrix 2.0 supplement is available online and can also be found in vitamin retail shops.
Supplement Ingredients
Nitrix 2.0 contains 12 milligrams of niacin, a B vitamin that plays a key role in helping the skin, nerves and digestive system to function. It also contains 3 grams of its own proprietary blend, which includes ingredients such as L-citrulline and creatine. Citrulline and creatine are amino acids used as building blocks of protein, and they can enhance performance during exercise. The manufacturer recommends taking three tablets prior to your workout and another three tablets after.
Allergens and Special Considerations
Nitrix is manufactured on equipment that also processes products containing milk, fish oil, shellfish, soybeans, eggs and tree nuts, so those with allergies to these items should exercise caution. In addition to potential side effects from allergens, there are possible side effects associated with general supplement use. If you use nitric oxide precursors such as Nitrix 2.0, you may experience reduced levels of dopamine, which helps regulate your cognitive function and sleep; increased urge to urinate; nausea and stomach cramps; zinc deficiency; or changes in your blood pressure and blood sugar levels. Discuss taking any supplement with your physician prior to use, especially if you have a medical condition. You should not consume this supplement if you are under the age of 18 or if you are pregnant or nursing.