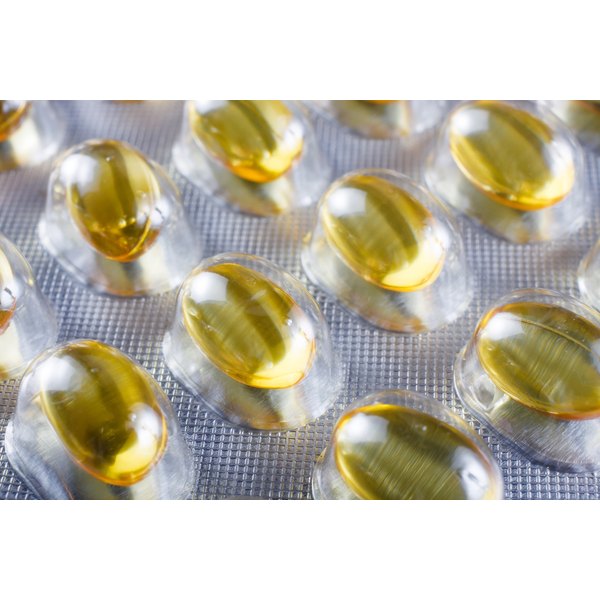 One of the confusing things about shopping for vitamins and supplements is understanding the labels. EGCG—initials you might find proudly displayed on a bottle of weight loss supplements—stands for epigallocatechin gallate, a powerful antioxidant found in teas and some foods. It boosts your immune system and may help you lose weight and protect you against some diseases, including cancer.
EGCG in Foods and Beverages
EGCG, which you may also see on product labels as catechins or flavonoids, is the reason that foods such as blueberries, dark chocolate and red wine are touted as "super foods" in the media. Green tea contains especially high concentrations, which is why its use has soared in popularity in recent years. If EGCG is an ingredient in a vitamin or supplement you're taking, its value will depend on how much is included in the recommended dose. Clinical studies linking EGCG to health benefits involve the use of 300mg or more.
Mayo Clinic Research
In a clinical trial conducted by researchers at the Mayo Clinic, one third of leukemia patients who took EGCG in capsule form showed improvement. The patients had a common, currently incurable form of leukemia known as chronic lymphocytic leukemia. The study, led by Dr. Tait Shanafelt and published in 2009 in the "Journal of Clinical Oncology," involved administering 300mg to 2,000mg of EGCG in capsule form twice a day. Researchers at the Mayo Clinic are conducting a follow-up trial to further test possible benefits of EGCG in treating leukemia.
EGCG and Belly Fat
Men who consumed 660mg of EGCG lost significantly more weight than men who consumed 22mg of EGCG in a study conducted by Kevin Maki and published in 2009 in the "Journal of Nutrition." In Maki's study, EGCG was taken in tea form—the higher levels of catechins were in green tea, the lower ones in black tea. After 12 weeks, the green tea drinkers had lost 5.4 lbs. and the black tea drinkers 2.9 lbs. The men whose diets included more EGCG also lost significantly more weight in their abdomens. Participants in Maki's study also exercises and restricted their caloric intake.
EGCG Weight Loss Without Dieting
Two studies suggest EGCG may be effective in weight loss even when not accompanied by dieting. In a study led by Michael Bose, a researcher at Rutgers University, both obese and healthy weight rodents were fed ECGC. All the animals maintained high-fat diets. The overweight rodents lost weight and the healthy weight animals did not gain weight. A study by German researcher Michael Boschmann also demonstrated a link between weight loss and green tea consumption. In Boschmann's study, published in "Journal of the American College of Nutrition" in 2007, men who consumed 300mg of ECGC oxidized fat more quickly than men who consumed none.
Considerations
EGCG appears to be safe, even when taken in high doses. If EGCG is just one ingredient in your vitamin or supplement, however, it may not be safe to take more capsules to achieve a higher EGCG amount. An alternative would be to drink green tea. A cup of green tea brewed from loose leaves contains 127mg of EGCG, according to the United States Department of Agriculture. Tea brewed from bags may contain substantially less, but the amount should appear on the product labels. If you decide to drink green tea rather than take EGCG in capsule form, you should know that green tea contains caffeine, although much less than in black tea.