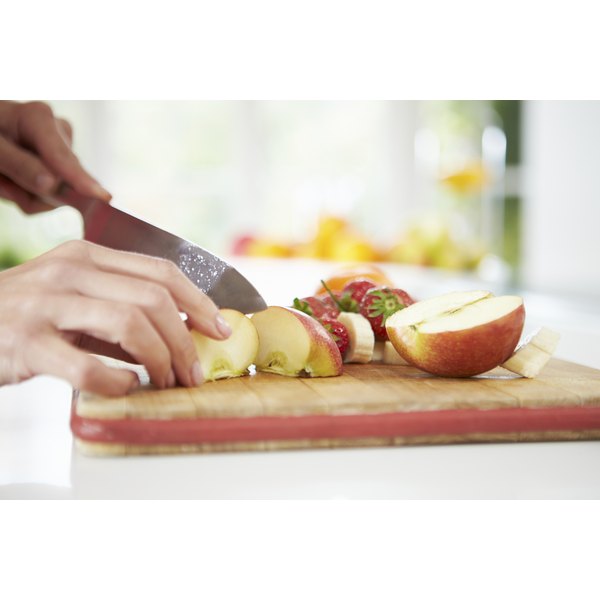 The term "diet therapy" refers to the usage of food and nutrition in controlling symptoms and creating the best possible life for yourself through health and wellness. Some illnesses can be effectively managed by altering your diet, and diet therapy is sometimes used before surgery to ensure that surgery is absolutely necessary. If your doctor has suggested diet therapy as a means for wellness, consider the basic principles of diet therapy so you know what questions to ask and what to expect.
Symptom Control
When you're suffering from an illness brought on by a poor diet, your doctor may suggest diet therapy before considering medical treatment, prescription drugs or surgery. Certain conditions such as heart disease can be managed more effectively when diet is under control. As the American Heart Association points out, a healthy diet is one of the best ways to reduce heart problems and lead a healthier lifestyle. Your doctor may even suggest diet therapy simply because he notices you have precursors or red flags for heart disease, even if you aren't currently diagnosed.
Diet Modification
When you indulge in unhealthy eating habits, like choosing fatty foods, eating too many sweats or avoiding vegetables, you put yourself at risk for serious health problems, notes Sumati R. Mudambi in the book, "Fundamentals of Foods, Nutrition And Diet Therapy." After assessing your diet and risk, your doctor may suggest a modified diet to help prevent further problems from occurring. It's important that if you receive this type of advice from your doctor, you follow through as you would a prescription medication. Changes to your diet can take place in small and simple ways, yet add up to make a big difference to your health.
Organ Rest
When you're about to undergo a surgery or your doctor is looking to isolate health problems, you may be asked to use diet therapy to offer a clearer picture of your health challenges or to help the surgery go more smoothly. Some doctors will instruct you to go on an all-liquid diet or soft diet, which can help give ailing organs a chance to rest in the digestive system. While diet therapy is helpful for gastrointestinal disorders, it can also be used to build up to a normal diet once again.