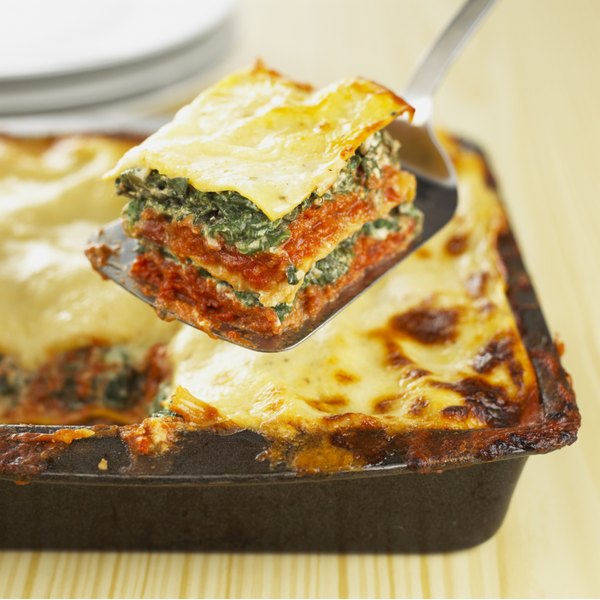 If you are following a vegetarian diet, vegetable lasagna is a well-balanced meal option. A good source of vitamins and minerals and a balance of carbohydrates, protein, fat and calories, this dish combines flavor with nutrition. It can be made from scratch without too much trouble, but pre-made frozen versions are quick and easy, yet still rich in nutrients.
Tip
Vegetable Lasagna has 128 Calories and 7.05 g of Protein per 100 gram serving according to the nutrition facts provided by the USDA Food Composition Database.
Calories
One serving of the average vegetable lasagna contains 316 calories. Of those, 39 percent--or 123 calories--are from fat. Forty-one percent are from carbohydrates, and 20 percent of the calories are from protein.
Fat
With 14 g of total fat, vegetable lasagna contains 21 percent of the daily recommended value based on a 2,000 calorie diet. Five grams, or 27 percent recommended value, are from saturated fats.
Carbohydrates
Thirty-two grams of carbohydrates can be found in vegetable lasagna, translating to 11 percent of the daily recommended value. Four grams of dietary fiber are included in this count, equaling 17 percent daily value. Sugars make up almost 6 g.
Protein
With 15.6 g of protein per serving, this vegetarian dish provides 31 percent of the daily recommended value of protein. If you are on a vegetarian diet, proteins may be difficult to find in optimal amounts. According to Self's Nutrition Data website, this dish provides 84 percent of the recommended amount of amino acids for any meal. Its insufficient supply of the amino acid lysine is the cause of the lower score. Lysine is found in abundance in certain meats, which would compromise the vegetarian requirements if added to this dish.
Vitamins and Minerals
Vegetable lasagna provides 51 percent daily value of vitamin K, along with 34 percent of the recommended calcium and 46 percent of the recommended selenium. The drawback comes in the 799 mg, or 33 percent of recommended values, of sodium.
Analysis
Self's Nutrition Data website offers a Nutritional Target Map to track the value of each food. Vegetable lasagna received a rating of 2.8 out of 5 on overall nutrition level, and 2.3 out of 5 was scored on how filling the dish is. It is also rated mildly inflammatory, and it has a fairly low effect on blood sugar levels.
Warning
Always check the labels on any frozen vegetable lasagna you may buy, as nutrition facts differ among brands. With calories ranging from 210 to 438, and fat from 5 g to 23 g per serving, average nutritional information may not have any resemblance of the nutrition for certain brands.