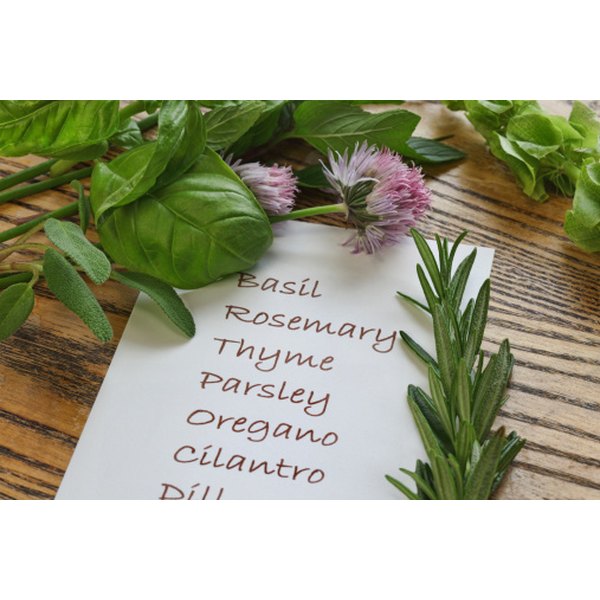 There are many herbs that can be used safely in a vaporizer when you have a cold, flu or other respiratory ailments. With many types of herbal vaporizers available in portable styles as well as more industrial options, you can be sure your herbal remedy of choice can be administered. Always use caution with any medicinal plant and use it only as your health care provider recommends.
Rosemary and Thyme
The volatile oils of rosemary and thyme plants have been used for centuries to help heal respiratory ailments. Vaporizing rosemary or thyme is an effective way to deliver healing antimicrobial elements to the lungs. Rosemary and thyme are both highly volatile, so take care to avoid accidental combustion when vaporizing.
Eucalyptus
Eucalyptus is an effective antibacterial plant with vapors that are gentle enough for safe administration to children and pregnant women. This pleasant-smelling plant has vapors that may be helpful during colds, flu and lung infections.
Medical Cannabis
Choosing to vaporize medical cannabis offers a much safer way to experience relief for people suffering from PTSD, depression, anxiety, autoimmune disorders, chronic pain and other medical conditions. Medical cannabis is legal in many states for people who qualify under specific guidelines. Vaporizing this powerful medicinal herb gives you a healthier option to smoking and a safer way to achieve desired relief. Vaporizing medical cannabis is recommended by physicians as a safe way to use this medicinal herb. Always use medicinal cannabis responsibly.
Chamomile
Master herbalist Rosemary Gladstar recommends vaporizing chamomile for its gently sedative effects. Chamomile is one of the safest plants to vaporize and can be used for children and pregnant women who deal with mild anxiety or who have trouble sleeping. If anxiety or insomnia is a chronic problem, be sure to speak with your physician.
Lavender
According to herbalist Susan Weed, lavender is a sweet-smelling, pungent herb that has been used for centuries for its calming effects. Vaporizing lavender is said to promote feelings of well-being as well as delivering powerful antibacterial vapors to the body. This gentle herb may be used safely for people of all ages. Be sure to use organic lavender to prevent pesticide or herbicide absorption while vaporizing.
Basil
Basil, when used in a vaporizer, can be used to settle a gassy stomach. The relaxing qualities in basil offer a soothing scent, while the volatile oils are delivered to the body in vapor form. Though basil is a safe herb, it should not be used in excess by women who are pregnant because it may increase premature contractions.