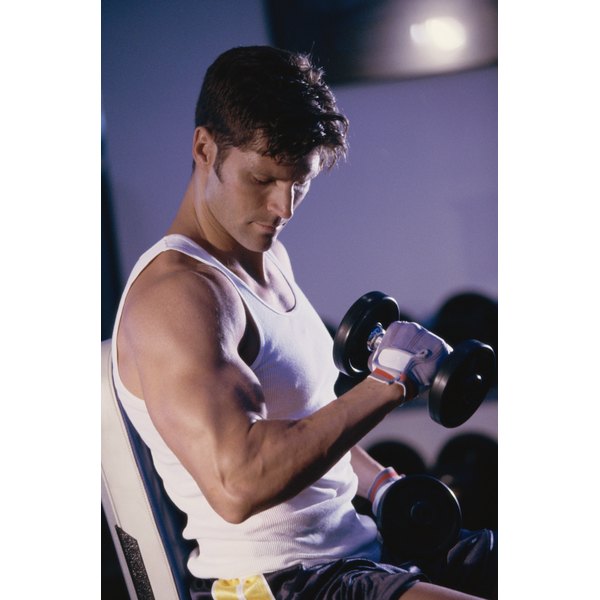 The manufacturers of Black Powder, the Medical Research Institute, claim that its product can give you more energy and increase your workout potential. MRI claims that in the first 30 minutes of using the product, you will feel energized and stronger. Black Powder can also help your body fight fatigue during a workout, according to the company's website. Black Powder is meant to be used as a pre-workout formula. It is marketed as a nutritional supplement, and like all supplements, you should read and understand the nutrition facts before consumption.
Calories and Macronutrients
According to the manufacturer's website, Black Powder contains 45 calories per serving. A serving is considered to be one scoop using the scoop provided in the container, which is equal to 20 g. One serving will provide your body with 0g of protein, 11 g of carbohydrates for 44 calories, and 0 g of fat.
Vitamins and Minerals
Black Powder has multiple vitamins, including riboflavin, with 120 percent of the daily value (DV); vitamin B-6 with 1,500 percent DV; folic acid, with 190 percent DV; and vitamin B-12, with 1,900 percent DV. This supplement contains multiple minerals, including sodium, with 10 percent DV; potassium, with 10 percent DV; calcium, with 15 percent DV; phosphorus, with 20 percent DV; and magnesium, with 45 percent DV. In addition, Black Powder also contains multiple vitamin and mineral blends, including a 2,000 mg strength and power blend made up of potassium aspatrate, disodium phosphate, dicalcium phosphate, creatine anhydrous, and creatine ehyl ester HCI; a 1,100 mg stamina and endurance blend containing potassium bicarbonate, sodium bicarbonate and carnoSyn beta alanine; and a 879 mg muscle metabolism blend made up of magnesium oxide, medium chain triglycerides, potassium alpha-ketoisocaproate, potassium glycerophosphate, and magnesium glycerophosphate.
Stimulants
According to the Black Powder nutrition facts, the product contains four kinds of stimulants to help enhance energy. These stimulants are a 202 mg blend of caffeine, green tea extract, and betaine anhydrous; and a 520 mg blend of taurine.
Amino Acids
Black Powder has only one amino acid, which is necessary for muscle recovery: arginine. One serving of this supplement contains a 300 mg blend of arginine and arginine alpha-ketoglutarate. No daily value has been determined for this amino acid.
Warning
If you are not sure of your current health or are being treated for high or low blood pressure, cardiac arrhythmia, stroke, heart, liver or thyroid disease, anxiety, depression, seizure disorder, psychiatric disease, diabetes, pernicious anemia or difficulty urinating due to prostate enlargement you should consult a doctor before consumption. This product should not be used by anyone under the age of 18, or if you're pregnant or nursing. Discontinue the use of this product if you begin to exhibit symptoms of insomnia, feel dizzy, or begin to have heart palpitations.