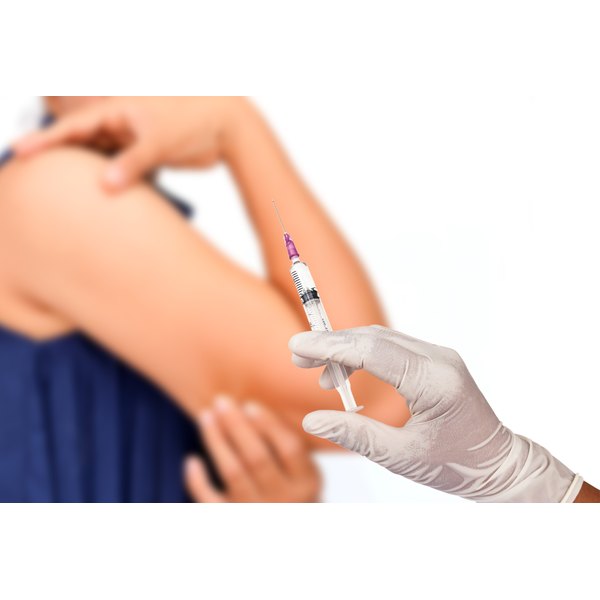 When self directed weight loss efforts aren't enough, some dieters turn to injections of vitamins and supplements thought to boost metabolism, dissolve fat, and increase muscle. Although medical literature in 2010 questions these claims, you can find the injections offered at several San Antonio weight loss clinics. Before committing to a package, keep in mind that there's no magical weight loss solution. You'll need to follow a diet plan and exercise regularly to get results.
Types
San Antonio clinics combine one or more supplements in their weight loss injections as a part of their weight loss solutions packages. Dr. Rogers Wellness and Weight Loss Center offers HGH shots combined with vitamin B-12. Lifetime Health Weight Loss Center mixes HGH shots with appetite suppressants and "other supplements." Medical Center Weight Loss Programs includes HGH in their "most aggressive" plan but also offers vitamin B-12 shots for energy and lipoden injections to dissolve fat.
Benefits
Lifetime says the benefits of their HGH regimen include "maintaining lean mass and basal metabolic rate and alleviating hunger in most clients." Dr. Rogers says the combination shots increase hypothalamic function resulting in rapid weight loss. Medical Center Weight Loss Programs includes HGH in their "most aggressive plan." According to Medical Center, HGH works best with a low-calorie diet developed by British endocrinologist A.T.W. Simeons
Considerations
Weight loss clinics typically offer injections as part of a comprehensive weight loss solutions that include counseling sessions with clinic physicians or nurses, diet plans and exercise regimens. For example, Lifetime Health clinic sells "fast track" weight loss programs that include HCG as a part of a calorie restriction regimen. The clinic generally administers HCG by injection but clients can choose sublingual or topical forms instead. Dr. Rogers Wellness says it specializes in "All-in-one" physician directed customized programs that teach medical, nutritional, behavioral and exercise techniques for effective and permanent weight loss.
Effects
Clinics agree that injections are most effective when combined with low calorie diets so your results will vary depending on body chemistry and how successful you are about staying within calorie limits. Lifetime says that clients who follow their regimen can lose up to 30 lbs. per month. Dr. Rogers "Rapid Results" and "Jump Start" programs promise 2 to 5 lbs. of weight loss per week.
Warnings
WebMD warns that HGH injections are not FDA approved for weight loss. While a 1990 study published in the New England Journal of Medicine showed a loss of body fat and increase in muscle as a result of synthetic HGH hormone injections, a 2003 study in the same journal refutes the earlier study. Mayo Clinic says that vitamin B-12 shots won't give you more energy if you don't have a B-12 deficiency and probably won't help you lose weight. Consult with a health care provider to make sure that injections won't interfere with any other prescription medications that you may be taking.