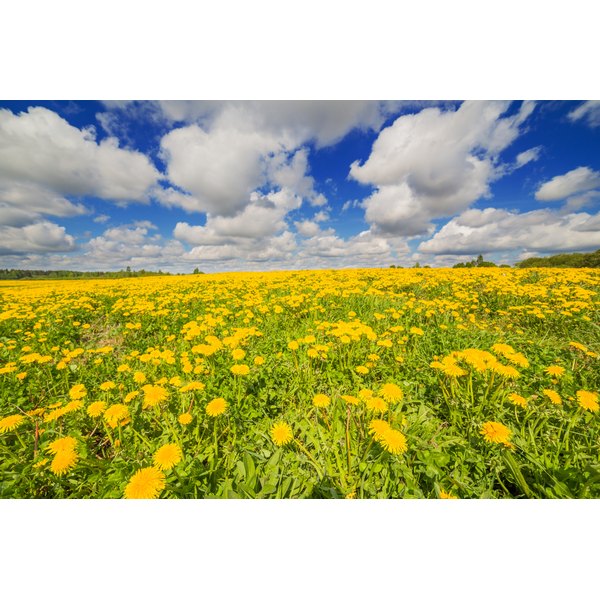 Weight gain is among the annoying symptoms that can come along with menopause. Menopause marks the end of fertility and menstruation. You officially arrive in this stage of life one year after your final period, according to the National Institutes of Health. Hormonal changes trigger your physical symptoms. There are many herbal remedies that you can try to alleviate symptoms such as weight gain during this time of your life. However, you always need to discuss using them with a doctor before adding them to your regimen.
Dandelion
Many women are bothered by water retention during menopause. You can take dandelion to help lose this water weight, advises Marilyn Glenville, author of "Natural Choices for Menopause." This herb also is a source of potassium and encourages water loss without loss of vital nutrients, Glenville advises. While the National Center for Complimentary and Alternative Medicine says there's no compelling evidence that points to using dandelion to treat any medical condition, it has a long history of traditional use as a diuretic. Germany's Commission E, that country's regulatory body for herbs, approves dandelion for treating urinary tract infections thanks to its diuretic action. According to NCCAM, the herb is generally considered safe, but you should avoid it if you have blocked bile ducts or an infected gallbladder. Gastrointestinal issues and allergies to dandelion are among reported side effects. Allergies are most common among people who are sensitive to plants in the daisy family.
Chasteberry
Chasteberry, also called chaste tree berry, may be used to help shift your hormone production so you are making more progesterone and less estrogen, according to "The Wisdom of Menopause" author Christiane Northrup. Balancing hormonal swings can help you get your appetite under control, which may translate to weight loss. In addition to suppressing appetite, chasteberry can help relieve depression and insomnia, Northrup says. Commission E approves this herb for treating menstrual cycle irregularities, premenstrual syndrome and breast pain. According to NCCAM, the studies supporting this herb for PMS have been poorly designed, so as of 2010 more research was needed before firm conclusions about chasteberry's effect on hormonal regulation or ability to regulate symptoms was needed. The herb does not have serious side effects, but can cause dizziness, acne-like rashes and gastrointestinal issues, according to NCCAM. You need to avoid it if you have a hormone-sensitive condition like breast cancer, are pregnant or take birth control pills and also if you take dopamine-related medications.
Black Currant
Black currant seed oil can help alleviate many menopausal symptoms including weight gain caused by water retention. Others include irritability, headaches, mood changes and breast tenderness, according to Ann Louise Gittleman, author of "Before the Change: Taking Charge of your Perimenopause." Black currant is rich in the omega 6 fatty acid gamma-linolenic acid, GLA, as well as the omega 3 fatty acid alpha-linolenic acid, ALA, which promote healthy hormone production and help reduce cholesterol, according to Gittleman. Unlike many other omega-6 fatty acids, GLA also fights inflammation, according to University of Maryland Medical Center. Most scientific studies don't show any effect to support using GLA for menopause or PMS, but anectdotal evidence supports using it for symptoms including depression, breast tenderness, irritability and bloating due to fluid retention, according to UMMC. Don't use GLA-containing herbs if you have a seizure disorder, take blood-thinning medicines, are taking ceftazidime, are undergoing chemotherapy or take phenothiazines, according to UMMC.