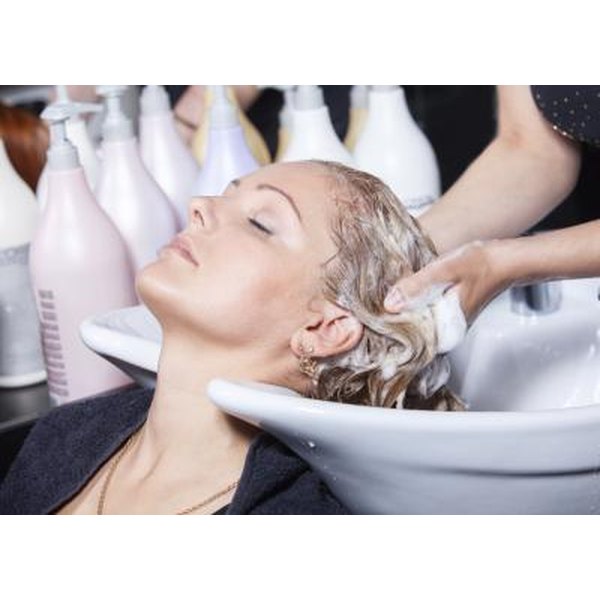 Protein treatments are used for severely damaged hair. They are not suitable for naturally dry hair but can be used to improve the condition of chemically damaged locks. Protein treatments or a protein reconstructor dry out your hair and should be accompanied by a deep conditioning treatment to restore lost moisture.
Function
Protein treatments fill in the gaps in the cuticle or shaft of the hair, leaving it smoother and shinier, according to stylist Jennifer J. of Juan Juan Salon in Beverly Hills and Brentwood, California. Damage to the cuticle of the hair can be the result of harsh styling, chemical coloring, perming or relaxers, or environmental damage from the sun, chlorine and saltwater.
Types
You can use a protein reconstructing treatment at home or in the salon. Gentle treatments are designed for more frequent use and are less likely to leave hair dry or brittle. More intense treatments may provide a significant effect but should be used with care. Too much protein leaves the hair feeling dry, stiff and brittle, according to HairFinder.com.
Considerations
According to hair product manufacturer Ouidad, protein treatments do not cause the hair to become dry, but they intensify the feeling of dryness present in the hair. Protein treatments are intended to repair damaged hair, not for use on healthy or minimally damaged locks, notes HairFinder.com. If your hair is dry rather than damaged, the negative effects of protein are much more noticeable.
Prevention/Solution
The dryness, stiff feeling or brittle hair associated with protein reconstructing treatments can be corrected by adding moisture to the hair. Choose a protein treatment that includes rich moisturizing ingredients, or opt to follow protein treatments with deep conditioner to soften the hair. If you're unsure whether a protein treatment is right for you, consult your stylist for recommendations.
Warning
Protein treatments should be used only as necessary, even in cases of severe damage. Popular intensive treatments are designed to be used every four to six weeks; gentle reconstructing products may be used once every week or two.