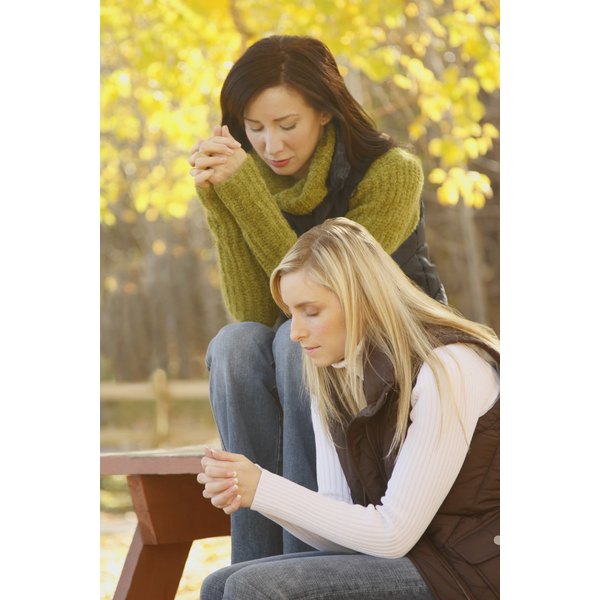 If you are a Catholic struggling with drug addiction, or the concerned loved one of an addicted Catholic, you have lots of company. Approximately 8.2 percent of the U.S. population over the age of 12 was using illegal drugs in 2003, according to an essay by the National Institute on Drug Abuse, "Trends in Drug Abuse."
Background
The Catholic Church has opposed substance abuse from its beginnings. St. Paul said, in Galatians 5:19-21, that people who engage in "drunkenness . . . will not inherit the kingdom of God." Pope Gregory I, before he died in 604 A.D., produced a list of seven deadly sins, one of which, gluttony, encompassed alcoholism. The Church fought recreational drug use during the Middle Ages, because it was associated with witchcraft, and has opposed drug use in Native American religious ceremonies.
Church and Drug Addiction
The first organization for Catholic spiritual outreach to substance addicts, the National Catholic Council on Alcoholism and Related Drug Problems, was founded in 1949 by Father Ralph Pfau. He had been dually addicted to prescription medications and alcohol. In 2001, the Vatican published "Church: Drugs and Drug Addiction," a pastoral handbook on drug abuse and treatment. The Church continues to oppose legalization of so-called "light drugs," like marijuana.
Spiritual Support
The National Catholic Council on Alcoholism and Drug Abuse -- NCCA -- offers booklets and articles for Catholic clergy and lay people seeking information on substance addiction. It is affiliated with Guesthouse, Inc., an addiction treatment center for Catholic priests, monks and nuns. NCCA organizes outreach activities, including multiple workshops in various dioceses each year on topics such as establishing parish substance abuse ministries. It distributes a special prayerbook, "Prayers For Addicted Persons and Their Loved Ones."
Catholic Rehab Centers
Catholic Charities, a national organization with state branches, offers a variety of social services that include inpatient and outpatient drug recovery and treatment facilities. For example, the Catholic Charities branch of the Archdiocese of Chicago provides drug treatment projects that include addiction counseling, transitional housing for homeless veterans who are recovering from substance addiction, a drug education prevention program, and a residential treatment program for women with children.
Parish Recovery Ministries
Individual parishes offer their own programs, ranging from hosting 12 Steps recovery meetings to parish recovery ministries. One example is St. Francis of Assisi Catholic Church in Ann Arbor, Michigan, which hosts a "Recovery" website, aimed at helping addicts connect with recovering addicts in the St. Francis Parish Recovery Community. The Recovery Community website also offers links to many recovery programs in the Ann Arbor area.
Finding Help
Catholic drug treatment programs vary from one geographic area to the next, so you may have to be persistent in finding the recovery program that is right for you or your loved one. Monseigneur Dermot Brosnan, the founder of the Patrician Movement, one of the first modern drug treatment programs, offered these words of encouragement about Catholics seeking help: "I don't know any alcoholics. I don't know any drug abuser. I know people made in the image and likeness of God."