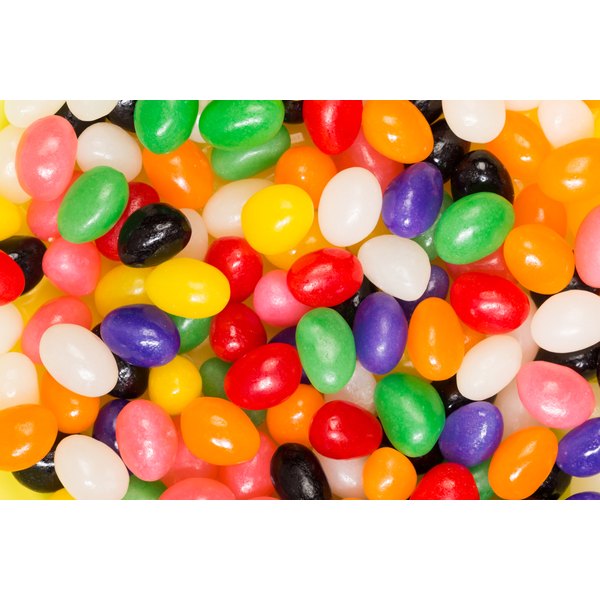 The Brach's Confection company has been in existence since 1904, when E.J. Brach and his sons began selling caramels at a tiny store in Chicago. The company survived the Depression and two world wars, and today is one of the major candy retailers in the United States. Its products are available nationwide, and you can enjoy them without sacrificing your health goals, if you know a little bit about their nutritional content.
Tip
Brach s Candy has 400 Calories and 100.00 g of Carbohydrate, by difference per 100 gram serving according to the nutrition facts provided by the USDA Food Composition Database.
Calories
Brach's candies vary in calorie content. Generally, chocolate-based candies containing nuts have more calories than gummy candies, which in turn have more calories than mints and hard candies. For example, Peanut Clusters have 210 calories per serving, Brach's Jelly Beans have 150 calories, while Dinner Mints and and Star Brite Cinnamon Disks each have 60 calories per serving. Serving sizes vary, so make sure you check the product's packaging.
Sugar
Like most candies, Brach's products are high in sugar. However, some products have more sugar than others. For example, a serving of Brach's Milk Made Caramels contain 16 g of sugar. Eat 12 Milk Maid Caramels -- three servings -- and you'll consume 48 g of sugar. In contrast, 12 Brach's Spice Drops —or gumdrops — contain 23 g of sugar. The American Heart Association recommends keeping your consumption of refined sugars under 100 calories per day if you are female, and under 150 calories per day if you are male. There are four calories per gram of sugar.
Fat
Some Brach's candies have a lot of fat, others none. Caramels and chocolates tend to have the highest fat content. Milk Maid Caramels have 4.5 g of total fat and 3.5 g of saturated fat, 7 and 18 percent of the daily value, respectively. Choose Spice Drops and Dinner Mints if you're worried about your fat intake, because they have no fat content.
Nutrients
Though candy isn't the healthiest way to get nutrients into your body, some Brach's candies do provide vitamins and minerals. For example, four Milk Maid Caramels provide 15 percent of the daily value of calcium. According to the company, Hawaiian Punch Jelly Beans provide a full day's allotment of Vitamin C.
Allergy Information
Food allergies send 30,000 Americans to the emergency room each year, according to the Food and Drug Administration, so it is a shame that the Brach's website does not provide allergy and gluten information. However, U.S. food laws require that all foods containing milk, eggs, tree nuts, peanuts, wheat and soybeans place a warning on the product label. Check the packaging of any candies you buy if you are concerned about allergens.